Slobodan Adzic
LEADER IN
MARKETING
<![if !vml]>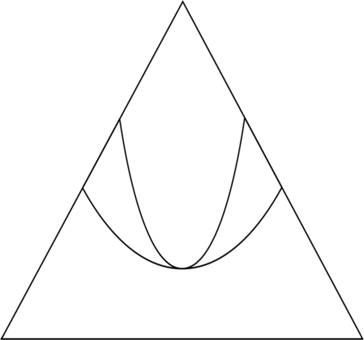 <![endif]>
<![if !vml]>

<![endif]>
Economics Institute • Belgrade
ISBN 86-7329-054-6
Publisher: Economics Institute, Belgrade, 2004
Reviewers: Prof. dr Janko M. Cvijanovic
Prof dr Milivoj M. Klarin
Editor: Jelena Lazic
Translation: Snjezana Mijatovic
Contents
3. Human Society and Leadership 14
4.1. Classic leadership styles 17
4.2. Modern leadership styles 20
4.3. Behaviorist theories, shared leadership and virtual leadership 25
6. Jobs and characteristics of leaders 33
7. Democracy and Leadership 44
II MULTIDISCIPLINARY ASPECT OF LEADERSHIP_ 48
1. Emotional Intelligence and Leadership 48
2. Types of Personality and the Leadership 60
3. Creativity and Leadership 68
4. Leadership and New Sciences 72
III DYNAMIC MARKETING ENVIRONMENT OF THE 21ST CENTURY_ 77
1. Kotler's Model of Main Actors and Powers in Marketing Environment 77
2. Trends in Modern Environment 82
3. Challenges to the 21st Century Management 85
4. Ecological Environment Impact on Competitiveness 89
IV HIGH PERFORMANCE ORGANIZATION MODEL 92
1. "Business Nature" Evolution 93
2. Diagnosis of Organizations and Getting Familiar with the HPO Model 98
3. Spheres of work in an HPO_ 103
4. From Visions to Performances 107
6. Examples of Successful HPO Model Implementation 120
6.2. Charleston Naval Shipyard 123
6.3. Local Government HPO_ 126
V LEADERSHIP IN THE HPO MODEL 130
1. Philosophy of Leadership 130
8. How to become a great leader? 162
VI CRITICAL ANALYSIS OF THE HPO MODEL 169
1. Model Contributions and Limitations 169
2. Impact of National Cultures on the HPO Model Application 173
THE ROLE OF THE LEADER IN CREATING OF HIGH PERFORMANCE ORGANIZATION IN THE MARKETING ENVIRONMENT
The necessity of leader management lies in the dynamical development of the present-day society. Leadership and changes are synonymous. Management is connected with efficiency, and leadership with effectiveness and changes. According to the quality of interpersonal relations between leaders and their followers we recognize resonant and dissonant leaders. The job of the leader primarily encompasses the jobs that are important, however not urgent. The leader necessary for the creation of high performance organization is a democrat. Democracy, being the only system that can effectively combat the requirements of the changes in the modern civilisation, is the basis of HPO. An effective leader has developed emotional intelligence and emphatic abilities, and as for the differences between people, he views them as constants and draws advantages out of them. Dynamical changes of the micro and macro setting of the marketingenvironment of enterprises contain more and more the effects upon business that are the more dramatic. The organization that survives is HPO, the organization that changes the strategy, structures and systems of organization on the basis of philosophy, the function and forms of leadership, as well as vision and values. The success of HPO is achieving high performances, namely simultaneous production of quality products and services, additional values for the consumer and enviable financial performances. Each of the HPO employees develops their leader, management, technical and team work skills. An HPO leader builds effectiveness through paradoxal mixture of personal modesty and professional strength, he knows that it is good to be an enemy of the excellent and uses that knowledge in leading enterprises. An excellent leader develops those qualities that make him above average to perfection, his philosophy of effectiveness is: reinforce the qualities that make you strong. The study of HPO models can contribute to the easier surmounting of oppositions in our national culture in accepting and implementing the leader concept of management. Leaders of the 21st century meet with the tasks that will be successfully accomplished on condition that they realise that it is the unceasing learning that enables high standards, ambitious goals and a true feeling of a mission in life.
Key words: leadership, management, organisation, effectiveness, democracy, performances, environment, multidisciplinarity, changes, vision.
Leadership is a relatively new phenomenon. However, this concept has quickly been acknowledged in the world, with over two thousand titles on leadership published only in the U.S.A. In Serbia, to my knowledge, no book could be found in Serbian language dealing only with business leadership. This is the main reason why I have chosen this subject. I believe that my modest contribution to the development of leadership thought will produce effects so that those interested in this matter would be able to get familiar with the idea of this brilliant concept.
However, the prime objective of this paper is not only theoretical aspect of leadership, but first of all a model of HIGH PERFORMANCE ORGANIZATION (HPO) representing a model of an organization completely based on leadership approach. At the very beginning, there is a doubt in how many economic organizations in Serbia today are ready to accept both the leadership approach and the HPO model based on it. Their number is probably negligible. Nevertheless, this should not be a barrier to our intention to discuss the latest concept of the world theory and practice. On the contrary, by learning from the best examples it is possible to make big steps forward, and that is actually what we need in our economy today.
To understand author's approach, it is necessary to make several remarks:
· The author is holding a leader's position in a non-profit sector.
· The author has become familiar with the HPO concept at the Senior Executive Institute, University of Virginia, one of the leading courses on leadership designed for city managers in the U.S.A.
· The literature used has almost exclusively dealt with a profit sector.
It is important to emphasize because of the author's vision. Although the leadership concept is completely the same in both the profit and the non-profit sector, there are still some distinctions:
· Coming to a leader's position in the profit sector involves a longer process; in the non-profit sector, and particularly in the state administration, it is easier to jump over some of the "steps".
· The non-profit organizations "put up with" greater number of leaders easier than the profit ones, as well as with empowerment and alignment concepts which, in their essence, aim at reducing the number of the hierarchy levels to almost none.
Still, these very specific qualities of the non-profit sector have aroused greater interest of the science in leadership because, as a rule, it is much easier to test the concepts within them. Thus, John P.Kotter, leading expert in leadership, has based his doctoral thesis on leadership of American mayors in big cities, while Peter F.Drucker, leading expert in management, has founded the Leader to Leader Institute the objectives of which are in dealing with developing leadership in non-profit sector. The author wants to highlight his own vision of consideration because this paper is, after all, rather focused on economic organizations and business leadership.
To begin with, the phenomenon of leadership will be highlighted. We shall define it, explain difference between a leader and a manager, show the necessity of division into leaders and followers conditioned by biological and psychological distinctions of individuals. Furthermore, main types of leaders and leadership styles will be shown, as well as what are the tasks and qualities of leaders. This Chapter will be concluded by linking democracy and leadership because the democracy is the basis for the type of leaders required for an HPO.
In the next Chapter the main trends conditioning dynamic changes of marketing environment will be revealed, and the turbulent environment "is guilty" for the need of leadership approach in the modern world.
Since leadership is an economic phenomenon, the multidisciplinary aspect of leadership, particularly its psychological dimension, will be discussed in the Chapter to follow. Emotional intelligence and types of personalities are of critical importance for leadership. The concept of creativity necessary for new way of leader's thinking will also be discussed. Finally, the development of new sciences will be discussed and they will be linked with leadership. We shall also see how the concept of quantum physics is particularly appropriate for a leadership approach in leading organizations.
The subsequent three Chapters will be dedicated to the main concept – the high performance organization. In the first one we will explain the basic model, which will be supplemented with the "prescription" for leading changes and will close it by giving examples of successful HPO model implementing. In the next one, we will explain in more detail leadership in then HPO model: philosophy, functions and forms. Then, we will show that a type of leader for the HPO does exist, and that is the HPO leader or level V leader. We will then proceed with concepts from good to great and built to last. Furthermore, we will explain a personal leadership approach, as well as a concept of elasticity. Finally, we will show how to become a great leader. In the closing Chapter dealing with the HPO model we will try to highlight its advantages and limitations.
At the very end, of course, conclusive considerations and references used in this paper will be given. I would like to express my gratitude to the team leaders from the University of Virginia who have recommended me excellent choice of literature based on the subject of this paper. The material from the course has also been used in the researches, while without using Internet I would not have all elements contained in the final version.
While preparing this paper I have on several occasions discussed with my friends some of the topics form this paper, which have drawn my attention. As a rule, the same thing has happened all the time – until I have not defined the leadership, each of my observations has been followed by the question: "Quite interesting, but what has it to do with leadership?" For the science, the leadership is a new matter, although as a phenomenon, it is very old. Therefore, it is necessary to define precisely and in detail what is understood under leadership.
It should be emphasized that leadership as a phenomenon has first appeared in non-economic social theories. According to these theories a leader is "a person who, by his words and/or personal example, distinctively affects the behavior, thinking and/or emotions of a considerable number of human individuals (followers or general population)"<![if !supportFootnotes]>[1]<![endif]>. Obviously, these theories do not limit leadership only to political leadership. Actually, the main division does not lay on political and business leadership, as might be thought, but on relation towards the audience: direct leaders address audience "face to face", while indirect leaders exert their influence through their work or deeds they create. This also implies that influence of a leader may be significant long after his biologically departure (the "New York Times" editorial staff have chosen Albert Einstein for the leader of the 20th century).
Six leadership constants, according to Gardner, are<![if !supportFootnotes]>[2]<![endif]>:
1. STORY: A leader must have a central story or message. It must be effective for a big and heterogeneous group. In crisis, the story must be told quickly, this resulting in simplifying central message.
2. AUDIENCE: Each, even the most eloquently told story, has no effect in the absence of audience.
3. ORGANIZATION: At the beginning a leader directly addresses the audience and achieves his initial success. For a continual leadership it is necessary to have an institution based on organizational basis.
4. PERSONIFICATION: The author of the story must in certain sense be a personification of his story. However, this does not mean that he should be a saint but that he should not be in contradiction with his main message.
5. ADDRESSING: Most of creative leaders address indirectly, through a symbolic product which they creates, while most of the political leaders address the audience with their stories directly. Direct addressing bears more risks, however, and particularly for a short time, it can be more efficient and effective.
6. SKILL: Only persons achieving a high level of expert knowledge in their work or credibility in their life have a chance to succeed as leaders. Direct leaders, in principle, lack technical knowledge while the strength of an indirect leader is actually based on his knowledge of concrete things.
This paper will primarily deal with leadership in business organizations and not with political leadership. And this very type of leadership is in the focus of new science. There is no strictly adopted definition of this kind of leadership but the emphasis is laid more on the fact that it is needed in business organizations today, and even more in the future. The necessity of leader management primarily lies on a dynamic development of the modern human society. Today, the overall human knowledge doubled in the period of 2.5 years. A leader is a person able to lead an organization in the turbulent environment of today, because he is the one who can successfully cope with changes. Therefore, leadership and changes are synonyms when business leadership is concerned. This is a primary thing. No need to be a superman in order to be a leader, because one becomes leader by birth but by acquiring knowledge in addition to his natural predispositions. This is the next axiom. And finally: the key of good leader is in his relation towards people, the emotional role of a leader being a primary thing. To simplify, the task of a leader is in the following<![if !supportFootnotes]>[3]<![endif]>:
· Considering situation, and
· Taking action.
May be Max Depree, great personality of American business world, has best described a leader: "The first duty of a leader is to define a situation. The last one is to say thanks."<![if !supportFootnotes]>[4]<![endif]>
In order to reveal what is between the first and the last duty of a leader, other aspects of leadership should be highlighted as well.
In American literature the following definition of distinction between a leader and a manager, which is actually a play of words, is very popular: leaders make the right things while managers make things right. Although popular, this definition is neither sufficient nor complete because it presumes that the positions of leaders and those of managers are on opposite ends. However, this is certainly not the case in organizations considering that in every business environment the work of both a leader and a manager is required. They are not competitive but complementary. Both are necessary in an organization for its prosperity. Powerful leadership and weak management, and vice versa, may easily put the organization in danger.
The consequences of powerful leadership and weak management in a complex organization are<![if !supportFootnotes]>[5]<![endif]>:
1. Powerful long-running visions without short-term planning and budgeting.
2. Almost a cult culture in an organization without much specialization, structure and rules.
3. Inspired people who use control systems and problem solving disciplines very little or not at all.
The situation in such organizations often slips out of control. When business schedule, approved budget and promises given to the consumers are not obeyed the risks for organization are growing.
The consequences of powerful management and weak leadership in a complex organization are:
1. Insisting on short terms, details, eliminating risks and ordinary rationality, with placing little focus on long terms, great images, strategies including risks, as well as on human values.
2. Powerful focus on specialization; a job is above the people while they become slaves of rules, and with minimal insisting on integration, alignment and personal engagement of people.
3. Control and anticipating are in the first plan, while growth, empowering and inspiration are not.
The situation in such organizations is rigid, non-innovative, and therefore, organizations are not able to cope with changes on markets or in technology. If an enterprise has a strong market position, the performances worsen slowly, while, otherwise, the performances worsen fast.
Many people even today have stereotypes about positions of leaders and managers in organizations. The stereotype is in belief that a leader is a lonely person on the very top level of an organizational pyramid while the managers managing organizations are below him, and that on the very bottom, separated with a clear line, are other collaborators. The reality, as shown in Figure 1, is quite different. In a complex organization there may be thousands of complex and linked jobs. They condition different bonds between people so that great leaders may be found in teams at the lowest level as well. The same process contributes to diminishing of manager's role and position in an organization. People are more often mutually linked not only because of interdependence of teams within the organization but are also directly linked with buyers and other actors from their environment. In such situations a good leadership is of critical importance for an organization to be successful on market.
<![if !vml]>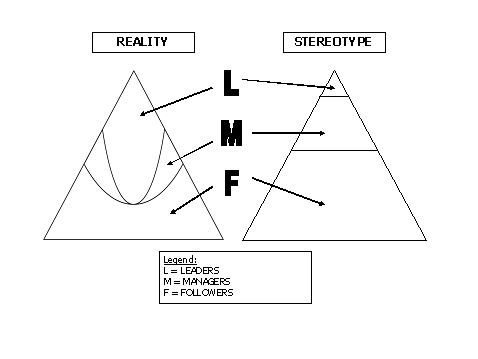 <![endif]>
Figure 1: Reality and stereotype about positions in an organization
(Source: Kotter John P., POWER AND INFLUENCE,
The Free Press, USA, 1985, pg. 171)
Management is connected with efficient functioning of organization, while leadership with changes. The companies manage the complexity by planning, while leading an organization begins with developing visions. While the management realizes its plans by organizing, the equivalent in leadership is communication amongst those who are on the road towards the realization of their visions. Finally, while in managing the plan is realized by control, in leadership reaching visions is achieved by inspiration.
In the 20th century Rockefeller III wrote: "Organization is a system having its own logic based on tradition and inertia. It is in good direction if the things are done in a proven and tested manner, and not by risking and searching for new business roads."<![if !supportFootnotes]>[7]<![endif]> Rockefeller would hardly become a rich man with such attitude in the 21st century.
To highlight the roles of leaders and managers, their different positions and roles in an organization will be highlighted:<![if !supportFootnotes]>[8]<![endif]>
Manager is an administrator while a leader is an innovator.
Manager is a copy while a leader is an original.
Manager maintains while a leader develops.
Manager is focused on a system while a leader is focused on people.
Manager develops control while a leader develops confidence.
Managers focuses on short-term and a leader on long-term prospective.
Manager asks how and when while a leader asks what and why.
Manager keeps an eye on final results while a leader on horizon.
Manager is an imitator while manager is an innovator.
Manager accepts status quo while a leader denies it.
Manager is a classical obedient soldier while a leader only his own.
Manager is trained while a leader is educated.
Manager takes care of where you are while a leader leads you to a new place.
Manager deals with today while a leader deals with the future.
Manager works with the security while leader with probability.
Manager struggles with complexity while a leader struggles with uncertainty.
Manager is focused on facts while a leader on decisions.
Manager finds answers and solutions while a leader formulates questions and problems.
Manager looks for similarity while a leader looks for difference.
Manager considers that a right solution may be used again in the future, while a leader asks himself whether a new solution for the future is required.
Manager is responsible for efficiency while leader is responsible for effectiveness.
The semantics of verbs to manage and to lead in Serbian language is quite interesting to be mentioned. While managing means determining direction, the leading means movement towards the goal. Determining direction - managing, may be a static quality because after the direction has been determined the one who has determined the direction doesn't necessarily have to move towards the goal. Moving towards the goal - leading, has necessarily a dynamic form because the one who leads towards the goal has be at the head of such change.
The standard situation in current organizations is that they are led too little and managed too much. Everyday turbulent changes in environment are a synonym of the need for greater influence of leadership in management.
Today, it is necessary to have ideas in order to survive on market. Leaders are those who sell ideas while managers are those who try to buy ideas at the lowest possible price in practice. Managers are always worried about the price while leaders are not interested in prices at all. New concepts are needed today to bring an organization closer and link it more firmly to consumers. The manager's task is to preserve the given concept and within its framework to "push out" maximum efficiency, while a leader breaks valid concepts and offers new, even not proven, concepts and ideas. An organizational model able to cope with all these changes is needed today. And that is a high performance organization with leaders in its entire structure who have mind of winners and turn attacks from their environment into chances and long-term growth and development on market.
In this Chapter the attention will be drawn to the roots of leadership and followership in human society.<![if !supportFootnotes]>[9]<![endif]>
The mankind originates from primates. The primates are hierarchically organized with clear differences in domination within the species. The researches have shown that dominant males in relation to the non-dominant ones have greater production of serotonin hormone in their bodies and lower level of stress. Another ability we have inherited from the primates is the ability to imitate. With primates the imitation is almost always one-way: lower status primates imitate actions of the higher status primates. As with people, the preschool children have the behavior similar to the primates: dominant children control toys, choose games and decide who will join the group. Less dominant children subordinate themselves to the dominant children, imitate them and accept their behavioral forms.
The next recognizable factor is early socialization of a child, namely importance of establishing firm relation of an infant with his guardians in order to survive. A child of 18 months has a strong awareness of his own existence as an individual. It is when he starts to look for the similarities with other people from his environment. Freud called this process the identification. The child identifies himself with the parent of the same gender as well as with elder child of the same gender. It is rather rare for a child to identify himself with another child of the same age. By identifying himself the child becomes a devoted "follower" because he anticipates actions and acts abased on the example of his "leader" also in situations when he is out of his control.
A five-year old child already completely understands the position of a leader, follower and place in the hierarchy. With clearly expressed wishes and aspirations and low developed empathy, in this period the child develops his emotional forms that will mark his behavior until the end of its life. Luckily, latest researches refute Freud's allegation that the forms remain unchanged during lifetime.
Education is the last factor essential for studying leaders. Namely, the expertise may be achieved by acquiring knowledge in certain activities and, based on this knowledge, an influential position may be achieved and leader's potential realized as well. Influences in the previous age affect the choice of expertise area of an individual.
According to the studies<![if !supportFootnotes]>[10]<![endif]>, over 60% of the top British leaders have lost one of their parents back in their childhood, mainly the father. Also, the most influential world leaders (e.g. Hitler, Lenin, Stalin, and Gandhi) have been on good terms with one, and bad terms with other parent. Churchill himself has emphasized in his biography that famous people have mainly been a product of unhappy childhood.
The followers are made of "species" different from those of leaders. They are constantly searching for a fascinating personality while many of the followers are often migrating, searching not for a perfect leader but for a perfect organization, association or society to which they would like to belong. Nevertheless, there are examples showing that even chronic followers may become leaders. There are followers who are attracted by the power or strength of an idea, and those attracted by charisma of leaders. The charisma may be physical, intellectual and spiritual.
It is of great importance to consider biological and psychological conditions for the existence of both the leaders and the followers in human society because of the future education of leaders. An illiterate of the 21st century will nor the one who does not know how to read or write but the one who does not improve his knowledge. Such should be particularly the future leaders always at the edge of new knowledge. However, the procedure for building a leader out of the one who is not made off this "fabric" would be a waste just like trying to make a pianist out of a typist. I believe in the future that developing science on leadership will be ever more focused on the phenomenon of early discovering of leaders so that they could be built as leaders starting from earlier stage. The current principle of building leaders is based on the principle of empowering already proven top-level managers. Only such target groups justify investing in development and only such small classes of people have the opportunity to reinforce their leader's qualities through education.
The leadership style is a manner in which relationships between leaders and collaborators as well as other employees in the company are established. Namely, it is the manner in which leaders direct the behavior of subordinates as well as the means they use to win over or obtain consent for the desired behavior<![if !supportFootnotes]>[11]<![endif]>. Basic criteria according to which we distinguish the styles are the following:
· Leader approach to motivation of subordinates – coercion or motive,
· Leader's decision making manner,
· Sources of power the leaders use to exert their influence on subordinates,
· Leader's competencies to adjust his behavior to various situations.
Based on these criteria the following styles are distinguished:
· Classic leadership styles, and
· Modern leadership styles.<![if !supportFootnotes]>[12]<![endif]>
The pioneer studies on leadership are the Hothorn's and Iowa's studies. These studies have investigated the influence of three leadership styles on behavior and performance as follows:
The characteristic of autocratic leadership style is in that a leader makes own decisions. He has no confidence in his collaborators. He uses coercion while his influence derives from a formal power of authority. There are two sub-types of autocratic style: charismatic and paternalistic leadership. The charismatic leaders rely on those personal qualities which distinguish them from others, while the paternalistic leaders build their power on a vision of a company as of their own family, they are fathers taking care of well-being of employees. The autocratic leadership is applied in small-size enterprises; as the enterprise grows and develops this style has to be transformed into the leadership style more appropriate to the situation.
The democratic leadership style is characterized by greater inclusion of subordinates into decision making process, greater confidence in subordinates and faith in readiness and willingness of subordinates to undertake responsibility in the decision making process. The decision making is decentralized, authority is delegated, and this style ensures the participation of employees, flexibility of organization and better performances. The democratic leadership is typical for medium-sized and big enterprises.
The liberal leadership style is characterized by full inclusion of all employees, in whom a leader is fully confident, while they feel completely free to discuss all issues. The liberal leadership is implemented in all enterprises, regardless of their size, structured according to their type and working groups, in which complex jobs are performed requiring sophisticated knowledge and highly educated people who do not tolerate restraints and cliches.
The Ohio studies are the first inter-disciplinary studies on leadership based on team work of psychologists, sociologists and economists. The concept of "management network" is actually based on the conclusions of these studies. The network has two dimensions: care for people and care for production. By advancing along horizontal axis, where the care for production is shown, the leaders show that they are task orientated, while by advancing along the vertical axis, where care for people is shown, the leaders show that they have higher degree of care for people.
<![if !vml]>

<![endif]>
Figure 2: Management network
(Source: Petkovic M, Janicijevic N, Bogicevic B., ORGANIZATION: THEORIES,
DESIGN, BEHAVIOR, CHANGES, School of Economy, Belgrade, 2020, pg.305)
In management network three leadership styles are defined:
1. STYLE 1.1. IMPOVERISHED MANAGEMENT is characterized by extremely low interest of leaders in people and production. This style indicates a low level of entrepreneurial spirit and low competencies of a leader.
2. STYLE 1.9. CLUB MANAGEMENT is typical for leaders who are hardly interested in production but who devote their attention to employees. This style is not recommended to leaders because it is considered as a specific manipulation with people in an organization.
3. STYLE 9.1. TASK MANAGEMENT is typical for leaders who are interested in everything pertinent to the production process but who are very little or not at all interested in motives and needs of employees. This style has all characteristics of autocratic leadership.
4. STYLE 5.5. HALF-WAY MANAGEMENT is typical for leaders who have a balanced sense for both the people and the production. Such leaders, who are majority in real life, do not set ambitious goals and have benevolent autocratic attitude towards the subordinates.
5. STYLE 9.9. TEAM MANAGERS are the most effective ones, because they are leaders equally greatly interested in both the people and the business. This is a position to be aimed to, and only chosen great leaders may achieve it.
The management network has been proven in practice as a good way of testing leaders because it shows them that the satisfaction of employees is as important as the achieved productivity.
The Michigan studies represent the most comprehensive researches of the classical school of this problem and Likert used their results to develop the "System 4" of management leadership. The first system represents the autocratic leadership on which all power is concentrated on an organizational top level. The second system is still autocratic because management and control have remained on the top level, however some decisions are delegated. There is certain, but not sufficient, confidence between leaders and employees. The third system comprises consulting employees in the decision making process, cherishing the team work in an organization. Nevertheless, the goals are set on the organizational top level. The fourth system represents a system of decentralized decision making favoring ideas of all employees who enjoy great confidence. The teams make organizational structure. These systems will be discussed in more detail in leadership philosophy of the HPO model.
The group dynamic approach is a modern school approach starting from the attitude according to which an organization is composed of organized and led groups. This approach distinguishes two styles: transactional and transformational leadership.
Transactional leadership means that leaders determine what the subordinates should do in order to realize organization's objectives, define tasks and assign jobs to subordinates and then stimulate and motivate them to accomplish the set goals. This leadership is successfully realized by authoritarian leaders.
Transformational leadership appeared in 80ties of the last century along with a big wave of organizational transformations of the well-known companies. It has been shown that only a special kind of leaders may make such changes, actually the leaders who have a vision and energy to inspire their followers. They redefine reality, move boundaries of impossible and with the power of their personality move forward the followers to accept and even to create innovations. These are transformational leaders and their qualities are:
1. They are recognized as advocates of changes.
2. They are brave.
3. They have confidence in people.
4. They are governed by values.
5. They learn as long as they live.
6. They are able to cope with complexity, ambiguity and uncertainty.
7. They are visionaries.
The contingent approach to leadership is the attitude according to which different leadership styles are variously efficient in various situations. According to this approach no style may be efficient in all situations. The factors affecting the leader's efficiency are:
1. The task characteristics and requirements.
2. The employees' qualities, expectations and behavior.
3. Organizational culture and organizational policies.
Further, the four leadership models based on contingent approach, dealt with in the literature the most, will be explained.
Fiddler is considered a founder of an efficient leadership contingent model. The Fiddler's model is built on the basis of a relation between leadership styles and appropriateness of the situation, namely the degree to which a leader can control, influence or anticipate the consequences of certain behavior. The combination of a leadership style and concrete situation determines the group performances. Fiddler is of opinion that leaders can implement two different styles in leading their collaborators. One style is characterized by benevolence and tolerant relation towards collaborators, while the other is characterized by unfavorable relation towards the collaborators, namely the ordering relation. The technique he has developed is based on rating opinions of a group leaders on the group members with whom they have worked and collaborated worst, the so-called LPC (the least preferred collaborator) scale.
A leader with low LPC rating is a task-oriented leader, and it is thereby quite logical that he describes negatively those employees who do not contribute to good results. A leader with high LPC rating is the one devoted to building ever better interpersonal relations. Fiddler shows that the both leadership styles have good performances under favorable conditions while under unfavorable conditions they don't. Accordingly, we cannot speak of a "good " or a "bad" leader but of a situation in which a leader may have good performances or a situation in which he may have bad performances. Some leaders may achieve better results with less rather than with more power. The performances may be improved either by changing some leader's qualities and his motivation system or by changing situation in order to make it more favorable for a leader.
The advantages of this model are in successful linking of three factors of critical importance for leadership success:
1. The relation leader/member may be categorized as a good one when there is mutual confidence, or as a bad one when high level of control, threat and fear is present.
2. The task structure may be categorized as highly structured, when a task is defined by known and clear procedures and instructions for members of an organization, or as badly structured, when organization's members face a dilemma on what they have to do, when and how.
3. The position of leader's power may be strong, when he has great influence, or weak, when he has little influence in an organization.
The basic criticism is directed towards the procedure and statistical analysis applied in the model. In practice, it is not simple to precisely define the level of task structuring, as well as the quality of the leader/subordinates relation. Also, the model does not include in the analysis the characteristics of subordinates and the degree of competency of both the leaders and the subordinates.
The Harsy – Blanshar model, in addition to the tasks/leader–follower relation also introduces in the analysis the third situational variable, maturity of followers. The maturity of followers is defined as competencies and readiness of the employees to assume responsibility when directing their own behavior related to the given task. The maturity level is determined on the basis of three criteria:
1. Degree of motivation for achievements.
2. Readiness to assume responsibility.
3. Degree of education and/or experience.
Based on this three-dimensioned situational model the four leadership styles are defined:
1. TALKING LEADERSHIP STYLE is the best one for the low maturity level followers not ready to assume responsibility so that their role in performing tasks is ensured by orders and guidelines.
2. SELLING LEDERSHIP STYLE is best to be applied in case of the low to moderate maturity level followers. This style at the same time ensures both the orientation towards the tasks and the support to people not able but ready to assume responsibility.
3. PARTICIPATIVE LEADERSHIP STYLE is applied in a situation when the followers show maturity and competency but not readiness to assume responsibility because of which they need support to raise their motivation.
4. DELEGATING LEADERSHIP STYLE is the best for high maturity level followers. This leadership style allows the followers high degree of freedom and possibility to assume full responsibility.
The House's model, the "road-goal" model, places focus on expectations and motivation of employees. Initial attitude is that employees expect to achieve high results, and based on this, high rewards while the leader's task is to assist them and explain which road towards the goal to take. This model distinguishes leadership styles according to leader's competency to notice distinctions between employees and to build, on these distinctions, various systems of remuneration according to individual contributions. Based on these criteria, four forms of manager's behavior are distinguished in the model as well as two categories of contingent variables. The motivation and satisfaction of subordinates is the result of a sum of forms of leader's behavior and contingent variables.
The contingent variables creating leader'S behavioral forms and attitudes and behavioral forms of subordinates are:
1. Qualities of subordinates (rigidity, external – internal orientation, and competency)
2. Environmental characteristics ( nature of jobs, formal system of authority, and characteristics of a group)
Four leader's behavioral forms are:
1. Directive behavior, resulting in positive influence on subordinates when a task is complex, and negative influence in the situation when a task is clear.
2. Imitating behavior, contributing to greater satisfaction of employees working on jobs which cause monotony, frustration and stress.
3. Achievements-oriented behavior aiming at inspiring employees for greater dedication and acceptance of challenges. A leader will, in addition to high assessment of results, create possibility for development and promotion of subordinates.
4. Participating behavior, meaning a high level of including subordinates into the decision making process, developed communication, getting information, and confidence.
Just like other model based on contingent approach, this model as well suggests to leaders that leadership style should always change and adjust itself to the given situation.
The Vrum-Jeton's model or normative leadership model tries to explain how leaders should respond or what decisions they should make in a given situation. They have created "decision making tree". The model contains 5 leadership styles, 7 situational dimensions, 14 problem types, and 7 decision-making rules.
Vrum and Jeton have identified seven possible situations, namely problem characteristics, setting certain requirements before the leaders who face these problems more or less every day. In this model, the requirements are formulated as questions with offered answers YES and NO, and are listed from A to G:
A) Does the problem require quality solution?
B) Do I have enough information to make a decision?
C) Is the problem structured?
D) Is the acceptance of the decision by subordinates critical for its successful implementation?
E) If I make a decision all by myself, is it certain that it will be accepted by my subordinates?
F) Do the subordinates accept (share) organization's objectives which would be realized by solving this problem?
G) Is the conflict among subordinates likely to occur in the preferred solution(s)?
<![if !vml]>

<![endif]>
Figure 3 : Vrum – Jeton normative leadership model
(Source: Ibid., pg. 317)
This relation between questions and answers should make possible to make a diagnosis of the situation a leader is in, and then enable choice amongst one of the five leadership styles, out of which the two are autocratic decision making (AI, AII), two have characteristics of a consultative decision making (CI, CII), and one has characteristics of a group decision making (GII):
1. AI
The situation when a leader alone solves problems and makes decisions relaying on information available in the given moment.
2. AII
A leader obtains the required information from his subordinates and then alone solves problems and makes decisions. The role of subordinates is exclusively in collecting information.
3. CI
Including subordinates through consulting. A leader consults the subordinates but makes his own decisions which may, but do not necessarily have to, reflect the viewpoints and opinions of the subordinates.
4. CII
A leader gathers subordinates into groups in which the problems are discussed and opinions of the group conceptualized and presented to leaders. After having consultations, the leaders make decisions.
5. GII
Manner of decision making in which leaders and groups discuss problems and make decisions together. They together create and evaluate alternatives and apply consensus in choosing solutions.
The Vrum-Jeton decision making model, by its appearance at the beginning of 70-ties of the 20th century, greatly contributed to the development of theory, and, as analytical means, proved to be very useful in practice. However, the authors themselves pointed at certain model deficiencies.
Vrum and Jago have made significant modification of the normative model. Compared to the normative model offering two options for an answer: YES and NO, the Vrum-Jago model offers several options, such as for example: NO, PROBABLY NO, MAYBE, PROBABLY YES, and YES. They have also introduced in the model some additional aspects of a situation, such as:
· Time limitations,
· Quantity of information,
· Geographical dispersion of subordinates included in the decision making process.
The care for the development of subordinates and the time required for decision-making are also additional elements in the new model. Besides, the rules defined as a support to the normative model have been replaced with mathematical functions. In this way, the already complex model has become ever more complex, so that it is possible to apply it only by using a computer.
The behaviorist approach has further improved the theory of leadership styles. Modern authors do not deal with answers to the question who the successful leaders are, but they deal with the question what the successful leaders do, how they behave in organization, how they organize their enterprises, how they make decisions, how they communicate, and how they motivate employees. The leaders are suggested to learn how to behave.
E.Shane concludes that new forms of leadership should be learnt and not through one-time learning, but through changes and unceasing learning. He links effective leadership with the behavior of leaders and defines the following leader's roles:
1. Leader as an animator.
2. Leader as a culture creator.
3. Leader as a culture preserver.
4. Leader as an agent of changes.
A leader as an animator is a creator of organization. He is important in the first, entrepreneurial phase, when organization of a young enterprise is being created. The entrepreneurs having visions often lack energy to motivate them to persist, on one hand, and, on the other, to inspire confidence, loyalty and readiness of employees to face failures. The entrepreneurs who successfully overcome this crisis may be said to be leaders-animators. They create organization and give initial impulse for further growth and development.
A leader as a culture creator is an architect of organizational culture of an enterprise. When the organization is created, the leader is, in the second phase of organizational development, expected to convey to employees the assumptions, believes and values, so that they accept and adopt them, in order to build a desirable model of employee's behavior, and he:
· Employs and keeps only those employees who accept the system of organization's values, by changing his mental model.
· Indoctrinates and socializes employees in accordance with his cultural formula.
· Imposes his own behavior as a model of roles by which he encourages employees to identify themselves with the organization.
A leader as a culture preserver maintains the accepted model of organizational culture that is realized in the third phase of organizational development called institutionalization. In this phase the successful elements of organizational culture are recognized and leader's task is to find the way to stabilize and preserve them. Simultaneously, leaders should monitor the organizational development, in order to be able to recognize a new situation, adjust leadership style and allow the appearance of other leadership forms. The leader's task is to develop competitiveness both of the individuals and the groups. They should develop together with their organization as well as develop a new generation of leaders, for a different future of the organization.
A leader as an agent of changes also changes organizational culture. The role of the agent of changes requires leadership skill in recognizing disharmony between the size and age of organization, newly created conditions and cultural forms of organization. The change in organizational culture understands the activities of leaders aiming at destroying elements of old culture and promoting new elements that will create a basis for new behavior.
The Benis's researches show that basic dimensions of an effective leader's behavior are:
1. Effective leaders focus their attention on visions. Their own convictions direct behavior of others. By defining an image of a desired future, they direct actions by visions thus transforming the existing opinions of the followers. The more the vision accepted the stronger the emotional and spiritual foundation of organization.
2. Effective leaders provide meaning through communication. Leaders define what has been unsaid or presumed before. The leaders explore why and not how, always and constantly discovering new problems. Leaders are those creating organizational culture.
3. Effective leaders win and maintain confidence through positioning that is considered an active side of vision. A task of positioning is to make the positions, values and models known and clear. Leaders are trusted if their positions are consistent, if their beliefs are persistent. This has a return effect on further strengthening of visions as well.
4. Effective leaders develop their personality through respect. Recognizing advantages and eliminating weaknesses, sharpening competencies and talents, distinguishing appropriate competencies through job requirements; ability of recognizing mistakes as a way of learning and not as a failure, are requirements which leaders must respect. The leaders accept people for what they are, avoid the past in relations with them, are full of attention and kindness, have confidence in people and self-confidence as well.
For a continual success of an organization it is necessary to provide a generation scheme. Solution to this problem is in Handy's concept of shared leadership the essence of which is in distributing power throughout entire organization.
There are two basic concepts on which the shared leadership is based:
1. SUBSUDIARY quality, a notion taken from the political theory, introduced in practice of modern organizations aiming at achieving balance of power. The essence of the principle is in that the higher body should not take over the duties which could be performed by lower bodies. The subsidiary relations understand confidence, while the task of leaders is to develop competencies of employees and make them become independent in order to assume the leadership role.
2. EARNED AUTHORITY, the notion taken from political theory, in leading modern organizations which is less and less like a machine and more and more a group of political processes, which should explain to leaders that power does not spring out from somebody's position. According to this principle, the power should spring out from the competencies and merits of the organization's employees.
Leadership and leaders are becoming changeable categories. The leaders realize their influence on behavior of other members by their respect earned by contributing to the organization's success. When others achieve better results and merit authority, they will assume the leader role.
Replaceability of leaders means that in modern organizations there is not only one leader. The reality shows that there should be more leaders in an organization and that leadership functions must be divided throughout the organization. The subsidiary and earned authority principle presupposes two things:
1. Structuring organization per teams and working groups; and
2. Making people independent for leadership.
Traditional organizations have been created on the concept of place, namely space where business activities are performed. Today, in the era of high technologies, information, learning and changes, the traditional organizations are undergoing metamorphosis and are being transformed into virtual organizations based on the concept of activities and not on the place at which the activities are performed. This phenomenon brings us to the need of studying the leadership required for such type of organization. Such leadership is defined as a virtual leadership. The virtual leadership affirms a new doctrine trying to find an answer to a key question of virtual organization: how to manage the people we don't see? The answer seems to be an easy one: by having confidence in them. The confidence is a basis of virtual organization and a phenomenon opening new chapter of leadership. This is a leadership model which should develop the feeling of belonging and loyalty in the people who work on certain jobs, regardless of place and time in which a job is performed. In order to accomplish the goal of belonging, the basic principles on which the confidence is built are suggested:
· Confidence is not blind.
· Confidence requires boundaries.
· Confidence requires learning.
· Confidence requires strength.
· Confidence requires unity.
· Confidence requires contact.
· Confidence requires shared leadership.
The motivation and participation of employees in virtual leadership become more and more important. For virtual leadership the key issue is how to keep people with good qualities. The answer is in changing relation towards the employees. The employees must be evaluated as assets and not as costs of an enterprise. And indeed, the market value of two hundred leading companies on the London Stock Exchange in average is equal to three times greater value of visible fixed assets. This means that markets evaluate the invisible assets of an enterprise, namely knowledge, experience and quality of employees, more than visible assets shown in balances of enterprise.
The main division of leaders would be the following: transformational and transactional leaders.<![if !supportFootnotes]>[13]<![endif]> A transformational leader is the one at the top position in an organization and his role is in changing reality of certain environment to bring the organization in conformity with values and ideals. A transactional leader is in position below the top one and his task is to efficiently get in interaction with the changed reality. Although an organization needs both leaders, only the transformational leader is a principle-centered leader.
Covey recognizes 2 basic principles at 4 levels. A principle-centered leader should incorporate the following principles, from own level to organizational level:
<![if !vml]>

<![endif]>

Figure 4: Levels of the Principle centered leaders

and key principles

(Source: Covey Stephen R., PRINCIPLE CENTERED LEADERSHIP,

Simon &Schuster, USA, 1992, pg. 286)




<![endif]> <![if !mso]> <![endif]> <![if !mso]>

<![endif]> <![if !mso]>

<![endif]> <![if !mso]>

<![endif]> <![if !mso]>

<![endif]> <![if !mso]>

<![endif]> <![if !mso]>

<![endif]> <![if !mso]>

<![endif]> <![if !mso]>

<![endif]> <![endif]--><![if !vml]>

<![endif]>



ISTJ

6%

Guardian

ISFJ

6%

Conservator

INFJ

1%

Author

INTJ

1%

Scientist

ISTP

5%

Craftsman

ISFP

5%

Artist

INFP

1%

Searcher

INTP

1%

Architect

ESTP

13%

Promoter

ESFP

15%

Showman

ENFP

5%

Journalist

ENTP

5%

Inventor

ESTJ

13%

Administrator

ESFJ

13%

Salesman

ENFJ

5%

Pedagogue

ENTJ

5%

Field marshal
<![endif]> <![if !mso]>

<![endif]> <![if !mso]>

<![endif]>

Suppliers Company Distributors Buyers

in marketing

<![if !mso]>

<![endif]> <![if !mso]>

<![endif]> <![if !mso]>

<![endif]> <![if !mso]>

<![endif]> <![if !mso]>

<![endif]> <![if !mso]>

<![endif]> <![if !mso]>

<![endif]> <![if !mso]>

<![endif]> <![if !mso]>

<![endif]> <![endif]--><![if !vml]>

<![endif]><![if !vml]>

<![endif]> <![if !mso]><![endif]>

Kotler's model<![if !supportFootnotes]>[47]<![endif]> is a good basis to start studying the dynamic marketing environment of a company.

<![if !mso]><![endif]>

<![if !vml]>

<![endif]><![if !vml]>

<![endif]>
In 1980 the long-standing successful family firm JOHNSONVILLE SAUSAGE made a turnaround towards an HPO<![if !supportFootnotes]>[62]<![endif]>. Till then the firm grew 20% yearly, the profit was above average for the industry, sales were excellent, and quality was high. They were a respected firm and they made a lot of money. However the owner felt nausea, because of competition and environment. The firm was too big to be a local manufacturer, and too small to be a national one. The most important was that the owner Ralph Stayer felt gap between the potential and performances. Until then he had opinion that the workers could not be dedicated to the firm as he was, given that he was the owner. And indeed they weren't.
Then the changes began to take place, starting from the Owner. He asked himself what the objectives of the company actually were and understood that he alone could not give an answer to than question. When he imagined a company selling the most expensive sausages in the industry and having the greatest share on market, he did not see the company in which where he alone made decisions, but an organization where all workers undertook the responsibility for their work, products and for the company as a whole. He saw the organization as a flying flock of geese.
Firstly, a survey on workers' viewpoints towards related to their jobs and the company. The results were average. The Owner began to look for excuses, but he soon realized that the methodology was not to be blamed for the fact that the workers did not feel anything towards the company. He understood that the organization is like a herd of buffaloes following blindly their leader, namely Owner. He summoned the manager's team and said: "As of today you will make decisions by yourselves." After two years of such work the Owner understood that his managers could not meet new requirements. He sacked them all. Afterwards he understood that he himself did not want them to make decisions by themselves but the decisions he would like them to make. Also, in these two years while making a new organization they started from a detailed plans and procedures, which should show in detail who was responsible for what. The plans were logical, but simply did not give any effects. Briefly, a catastrophe.
The Owner understood that he had to be an instructor<![if !supportFootnotes]>[63]<![endif]>, to learn the art of training, which essentially means communicating visions and training people to understand own behavior, own frustrations and own problems. He asked the workers:" What is your greatest problem?" and got an answer: "We don't like to work on weekends!" Then he told them: "Let's make a chance out of the problem, it is not important when but how much you work." And they did it, they alone. The machine idling of 40% was by better organization of workers reduced to 10%. They did not work on weekends by the results were better. The people began to self-manage, but the Owner still managed the system and structure. This would be the next to change.
Firstly, the quality control system was introduced, the key system of business success and competitive advantage. The people were not encouraged to produce high performance sausages, because the quality was the responsibility of a separate division and high executives. The owner learned the following: the first strategic decision he had to make was who should make decisions. The first line of workers was told: "Since now you are responsible for sausage quality and you alone are to make the quality system control you want to have." They did it and the results were surprisingly good. The team collected information, identified problems, worked with suppliers and other line workers on developing and implementing solutions, even visited retail facilities to learn what problems or remarks the salesmen and consumers had. The percentage of sausages of unsatisfactory quality in the process of production fell from 5% to 0.5%. The workers' teams began every morning to carry out product organoleptic testing and search for solutions for possible improvement. They asked for information on expenditures and on opinions of consumers, so the information system was redesigned to allow such data. In time, the people asked for more and more obligations. They asked information on labor costs, efficiency and income. They were furnished with the information and were solving them. Every morning they made ever greater progress and found deeper and more complex problems. Soon they undertook obligation to manage all performances, including also managing of performances of each individual worker separately. The results were a dramatic change for better. They said that selecting and training workers caused bad performances. They took over selecting – employing and dismissing – and training for themselves. The next change was in the system of wages. The old system rewarded continuity in the company, the new rewarded performances. The fixed profit percentage was additionally established and called "share based on performances", which was divided amongst the workers by themselves every six months. The Owner stopped eating sausages at morning meetings and visually they all knew that they alone were responsible for all related to them.
<![if !vml]>

<![endif]>
Figure 28: Company's Mission
(Source: Pickering John W., Brokaw Gerald S., BUILDING HIGH-PERFORMANCE ORGANIZATIONS FOR THE TWENTY-FIRST CENTURY, Charlottesville, VA, USA:Commonwealth Center For High Performance Organization Inc.(Unpublished Participant Text) 2003, SM-47)
The change in structure was almost automatic. The teams undertook the jobs of the right-line managers and then of top-level managers. The teams made decisions on budget, capital investments, sequence of obligations, standards, tasks, performances… The traditional Personnel Department was replaced with a Training and Personnel Development Team. Today, 65% of people in Johnsonville are included in some kind of formal education. Everything is learnt – from accounting, engineering and marketing to Italian cooking and kite gliding. Learning is a change, should be unceasing, the continuity in learning is necessary. The life is an inspiration. Helping people to free all their potentials is morally a very good thing, and great for business. The Owner said to leaders' team; "Talk to me as to consultant and call me whenever you need me". One morning the Owner found a message by a leaders' team on his table:"I need you at 8:15 hrs". At first he was angry… and then he was aware that he succeeded.
The "pay off"<![if !supportFootnotes]>[64]<![endif]> came in five years, when Johnsonville was offered a big contract for which the Owner did not believe the company could fulfill. In the old system he would refuse it immediately, but in the new system he presented it to all workers. All teams started to communicate mutually and in two-week time the workers decided – the contract was accepted. They decided to employ and train new workers, raise efficiency and effectiveness and work seven days a week.
The sale, quality and profit were far greater that one could expect in 1980. The people were aware that their greatest enemy was the success in the past and learned that a change is the right deal of any effective business because the change related to today and the future was not related to the past. No end for changes.
6.2.
Charleston Naval Shipyard
The American Naval Shipyard in Charleston<![if !supportFootnotes]>[65]<![endif]> existed already 100 years when in March 1991 Captain Tom Porter (now Admiral) took over command. In the work until that moment the orientation towards the Shipyard's buyers was choose two. Choose two meant that the Shipyard could deliver a quality product by either faster delivery or lower costs, but not all three simultaneously. In 1991 the Navy decided to implement in all three shipyards the business strategy more oriented to buyers: project management (PM), and simultaneously the advanced industrial management (AIM). Porter was assigned to do the following:
1. Reduce number of workers from 8,000 to 6,500.
2. Implement PM/AIM.
Porter restructured his assignment through three processes of changes by:
1. Creating high performance organization.
2. Implementing the PM/AIM.
3. Improving relationship between workers and managers.
<![if !vml]>

<![endif]>
Figure 29: Company's vision
(Source: Porter Tom et al., BUILDING HIGH-PERFORMANCE ORGANIZATIONS FOR THE TWENTY-FIRST CENTURY: LESSONS FROM CHARLESON NAVAL SHIPYARD, Project Management College, NAVSEA07, USA, January 1995, pg.2-32)
In January 1992 a three-day HPO seminar and fife-day workshop for improving team skills commenced. The first training commenced with the top team of the organization. Leader's teams were also formed at all levels and the training commenced. In April the education and leadership development began. Also, the new PM/AIM approach was implemented. The core of this approach was that the team members building vessels were responsible for all aspects: quality, delivery speed, relations with buyers, and budget. The first two PM/AIM teams, which created the HPO, were responsible for building two nuclear submarines. The first one that was built was completed with 35% lower costs than standard of other shipyards and they saved 9 million dollars to Navy. The total of 22 other vessels/projects were built when the Shipyard was awarded the price of the Ministry for their exceptional contribution to the growth of national defence at high money savings of taxpayers. Immediately after his arrival, Porter, first alone and then along with the assistance of other managers, initiated intensive talks with trade unions. In May 1992, the tension that appeared at the beginning of the process because of redundancy totally disappeared, and all groups agreed that they had built consensus on future relationship and actions.
<![if !vml]>

<![endif]>
Figure 30: Company's values
(Source: Porter Tom et al., BUILDING HIGH-PERFORMANCE ORGANIZATIONS FOR THE TWENTY-FIRST CENTURY: LESSONS FROM CHARLESON NAVAL SHIPYARD, Project Management College, NAVSEA07, USA, January 1995)
The HPO model applied in the Shipyard, explained in preceding Chapter, emerged on the basic postulate of the author of the model according to which the most important for managers is a clear and concise concept of the model synthesizing comprehensive theoretical knowledge on building high performance organization, with diagnostic tools which may have a practical application in understanding their own organizations. The HPO model has contributed to the shipyard to realize 3+ approach:
· Superior products and/or services,
· Focus on delivering high values for consumers, and
· Good financial performances.
In April 1996 the Shipyard was closed. The reason for closing was the change in national navy strategy – reducing building of new vessels from 600 to 340 vessels yearly. Which of the shipyards were going to be closed was not decided on the basis of their performances and results but on the basis of territorial distribution defined according to the changed global strategy.
The lessons to be learnt from this case are:
1. The first and most important lesson is that establishing an HPO does not grant automatic survival.
2. The second lesson is that training is only a tool in the process of changes, it neither causes them nor may be their substitute.
3. The third lesson is that a mechanism of changes is in leaders' teams created on the basis of the job nature. The team success in achieving an HPO was in the ability of a leader to base his work in, for us already known, K2 leadership square. The contribution of external consultants was also important.
4. The fourth lesson is that improvement of relationships between workers and managers is of crucial importance.
5. The fifth lesson is the importance of awarding system change.
6. The sixth and final lesson: experience from Charleston confirmed that the program of changes focused on organizational strategies, structures and system, and without previously defined high performances, leadership approach and articulation vision and values, have marginal value.
The results of researches show that some leaders, because of the situation in an economic branch and because of environment, while leading their firms incline to the non-democratic styles of rule. In their case this may be justified because it is temporary due to momentary situation in the branch, and latest until the company becomes endangered due to the changes in the environment. However, in the policy of a democratic country, although some researches would show that all leaders do not have democratic type of rule, particularly in traditional societies, it could be said that this might never be justified. The democracy is the best existing type of rule and it must be practiced at all levels of power, at the local level as well. Its effectiveness has been proven so far.
Just like the HPO model of an economic organization, the HPO of a government is also based on values and visions, but in this case the values are given beforehand – and these are democratic values. The local community political and administrative logic must be taken into consideration in the HPO of local authorities. All actors of public services based on democratic principle of power should choose the set of their jobs on the following political values:
1. REPRESENTATION. The elected body is a chosen representative of citizens. Therefore, the citizens' will must be represented through the actions of the body.
2. EFFECTIVENESS. The citizens expect to be governed wisely and reasonably. Such relation must be felt through the results of public services and companies' work – their work and outputs must be highly effective.
3. INDIVIDUAL RIGHTS. A citizen must strongly feel that the authorities in communication with him, or through decision-making, are not violating his constitutional rights and freedoms.
4. SOCIAL EQUALITY. The citizens are often addressed to as a certain social group, and not as an individual. All groups of citizens must have equal treatment by local authorities.
A vision of local authorities of high performance must be tightly linked with the communal strategies. If the leadership philosophy is adopted at all levels in an organization, as well as at the level of teams and each individual separately, we come to the model of the local authorities or local government HPO. I would like to emphasize that it is crucial for the model to be funded on democratic values.
<![if !vml]>

<![endif]>
Figure 31: Local government High performance organization
(Source: Roberts Deborah D., DELIVERING ON DEMOCRACY: HIGH PERFORMANCE GOVERNMENT FOR VIRGINIA, "University of Virginia NEWS LETTER", Vol 71, No.6, USA, 1995, pg.9)
The duality of power at local levels is usual in all democratic countries: legislative (or political) and executive power. It is also the case in our system, along with all changes in legislation. More stable and effective democracies strengthen the executive power and leave it to professionals. The art of dealing with public services at this level has been since long ago studied as profession at foreign universities. However, it this case there is a gap in knowledge and, most likely, in skills between the professional and political power, namely appointed and elected power in our political system of local self-governance, shown in figure 32:
<![if !vml]>

<![endif]>
Figure 32: Appointed and elected persons in the local authorities HPO (Source: Senior Executive Institute, University of Virginia, 2003, participants materials)
For the elected body to be a high performance body it should necessarily move from its political convictions (politics) towards the guidelines of acting (policy). The elected body needs assistance from professionals to be able to accept long-running visions. Without that, this form of rule is vulnerable. When the final picture of desired state is shaped, by maintaining constant creative tension between the momentary reality and desired goal, all will be on the road of accomplishing high performance. This leadership concept "all hands together" is realized in three phases:
1. Forming strong working linkage.
2. Building collective image of the community future.
3. Developing principles moving visions.
4. Choosing effective operative guidelines.
5. Including citizens in the process.
The work process is to commence as soon as the "dust settles" after the elections. The focus should be on a vision, on the desired future status. The democratic values are the base. The difference in motives should be understood, the politicians are interested in being elected again, and the professionals in keeping their jobs. "Building" politicians along with unselfish participation of all the appointed persons and professionals, the full participation in work will be achieved because all of them will work in the same goal, fully sustaining their motives. Firstly, a link between the work and assignments is to be established, respecting the fact that the development strategy framework is a job of politicians, and after that the citizens have to be included. It is important to make visions acceptable by the citizens. Obviously, the well-known thesis on necessity of both leader's and the manager's work is repeated here. The leadership concept "all hands together" allows stable and positive development of the community in the future.
The local authorities and every power have since long ago been called public services. Unless the holders of power do not accept their role in the power only as a common job, but make use of it to serve high ideals of democracy, freedom and equality in the same way as they would serve interests of their co-citizens, acquaintances and friends, their mission will be remembered as a good and successful one.
Firs of all, it is necessary to underline the necessary change of paradigm in the philosophy of leadership. The new philosophy is required because of the new convictions of individuals and organizations related to the nature of people and their relation towards the jobs, primary source of motivation, distribution of knowledge and creativity in an organization based on decision making and related to designing and assigning tasks. An organization has to change its culture from an "industrial model" with typical autocratic leadership towards a "network talent model" with participative, democratic leadership. Thus, the questions to be answered are:
1. What does an organization, a system within the organization, believe (with relation to people) THE NATURE OF PEOPLE AND THEIR RELATION TOWARDS THE JOB is?
2. What do we believe the PRIMARY SOURCE OF MOTIVATION of most people is?
3. What is the relation towards the DISTRIBUTION OF KNOWLEDGE AND CREATIVITY and, therefore, HOW THE DECISIONS ARE MADE?
4. What do we believe the JOB NATURE is?
As for the nature of people and their relation towards the job, the autocrat leadership philosophy is based on a presumption that people like to work, that they are not ambitious and they do not want to be responsible. The coercion and control are necessary in order to perform a job. The new philosophy is based on an presumption that the work is primeval man's need, that people want to be a part of something important and on equal footing. Self-control is more effective than external control.
As for primary source of motivation, the old philosophy is based on Maslow's lower levels of needs and Hertzberg's hygienic factors respectively. The democratic leadership philosophy sees the motivation sources in Maslow's high levels of needs and in Hertzberg's motivators respectively.
The distribution of knowledge and creativity, namely decision making, in industrial model are based on the philosophy that knowledge and creativity are concentrated mainly on the top of organization, that the top-level managers are experts and they know the best which decisions are to be made, without consulting lower levels in the organization. In the network talent model the knowledge and creativity are widely distributed through the organization, those closest to people holding functions know the best how they see them and how they improve them, while consulting is necessary to reach the best decisions.
Related to the job nature, the old philosophy is based on presumption that the job is best done if divided into simplified tasks, where management is obliged to unite them. The work is what an individual does by alone, the award is based on competition between the workers. The new philosophy is based on presumption that the job has surpassed the individual and the network of educated and stimulated collaborators is required for the task to be performed. The award is based on cooperative team performances.
The research of motivation in the HPO model is based on works of Maslow<![if !supportFootnotes]>[66]<![endif]>, Hertzberg<![if !supportFootnotes]>[67]<![endif]> and Emery<![if !supportFootnotes]>[68]<![endif]>. These authors have recognized two kinds of employee's motivation factors:
· MOTIVATORS: factors related to business satisfaction and motivations, and
· HYGIENIC FACTORS: appropriate level of these factors may prevent dissatisfaction, but they alone are not "motivators".
Maslow is known by studying motives and needs they satisfy.
The motivators for Maslow are:
· Development (self-actualization)
· Respect (Ego-status)
while hygienic factor for Maslow are:
· Belonging,
· Security,
· Basic survival.
Hertzberg has studied goals and goal stimulation. The motivators for Hertzberg are:
· Interesting and demanding jobs,
· Responsibility,
· Achievement,
· Recognizing,
· Professional growth,
· Promotion to higher levels,
while hygienic factors for him are:
· Wages and allowances,
· Feeling of security,
· Interpersonal relations,
· Status,
· Working conditions,
· Quality of control,
· Organizational policy and fair administration.
The Emery's field of study is a job design. The job motivators according Emery are the following:
· Diversity and challenges,
· Decision making,
· Feedback and learning,
· Mutual support and respect,
· Feeling of comprehensiveness,
· Possibility of growth,
while hygienic factors are:
· Honest and adequate salary,
· Job security,
· Allowances,
· Security,
· Health,
· Process of recognizing.
The most important authors whose works are the basis for designing HPO model in the leadership philosophy are McGregor<![if !supportFootnotes]>[69]<![endif]> , Block<![if !supportFootnotes]>[70]<![endif]>, and Likert<![if !supportFootnotes]>[71]<![endif]>.
The theory X and theory Y by McGregor have been the basis for the development of behavioral science. He alone has believed that the Y model is appropriate for most of the people.
According to the X theory:
· Work is for most people mostly unpleasant.
· Many people are not ambitious, have little desire for responsibility and want to be directed.
· Many people have little competencies for solving organizational problems.
· The motivation is based on physical needs and need for security (according Maslov).
· Many people must be directly controlled and must often be under coercion in order to accomplish organization's objectives.
According to the Y theory:
· Work is a natural game, if the conditions are favorable.
· Self-control is often necessary in achieving organizational objectives.
· Competency for solving organizational problems is widely represented in population.
· Motivation is based on social needs, self-respect and self-actualization just like it is based on physical needs and need for security.
· The people are not to be managed. They may be creative if adequately motivated.
It is obvious that the HPO model and democratic network talent organization are based on the Y theory.
Block dealt with the so-called cycles and his studies has brought about bureaucratic and entrepreneurial cycle. They are in opposite poles. The Block's entrepreneurial cycle has coincided with the democratic leadership philosophy:
· THE INTREPRENEURIAL CONTRACT SEES that:
à each person has authority; individuals are responsible for their actions and for organization's success; the management is focused on the purpose of organization and helps in creating culture,
à self-expressing is necessary to free human energy, passion and motivation,
à vision and values are the basis for responsible actions of individuals,
à people are loyal to the organization because they want, and not because they have to.
· ENLIGHTENED SELF-INTEREST:
à success is defined as giving contribution, working something important, being helpful to the colleagues and customers, integrity is of primary, while awards are of secondary importance.
· AUTHENTIC TACTICS:
à communication is direct and honest; information and control are divided; people have feeling of belonging.
· AUTONOMY:
à we feel that our existence is in our hands; we undertake responsibility for our situation and for the future.
The block's bureaucratic cycle is related to the authoritative organization, formally and strictly worn out and inflexible in terms of hierarchy:
· PATRIARCHAL CONTRACT REQUIRES:
à subordination to higher authority; the top-level knows better; the management is autocratic, control is centralized; hierarchy
à impossibility of self-expressing; be careful,
à sacrificing for the benefit of unknown award in the future,
à anticipated disloyalty towards the contract.
· SHORT-SIGHTED SELF-INTEREST:
à success is defined as gaining personal benefit – advancement, authority, benefit and "corporate jewellery".
· MANIPULATIVE TACTICS:
à autocratic cultures and personal ambition support selfish, careful and indirect behavior; manipulative; based on control of people.
· DEPENCENCE:
à we feel that our existence is in hands of others; our situation depends on decisions of others and their relation towards us.
However, the best theoretical and practical value is found in Likert's organizational system having four basic and one "gemischt" systems which may even not be called a system:
1. EXPLOITATIVE AUTOCRATIC,
2. VOLUNTARY AUTOCRATIC,
3. CONSULTATIVE,
4. PARTICIPATIVE.
5. LAISSEZ FAIRE (ZERO SYSTEM)
<![if !vml]>

<![endif]>
Figure 33: Table of Likert's organizational systems
(Source: Pickering John W. Brokaw Gerald S., BUILDING HIGH-PERFORMANCE ORGANIZATIONS FOR THE TWENTY-FIRST CENTURY, Charlottesville, VA, USA: Commonwealth Center for High Performance Organizations Inc. (Unpublished Participants Text), 2003, III-9)
The zero system is called a system because it contains mixture of everything: one element operates at the level of consultative organization (say communicates), while the other is based on authoritative organization system (say the team work). In such cases we have the "sickest" organization.
In the first, exploitative system, the philosophy is based on the following: people are seen as being lazy and selfish, while the policy of the organization is exploiting. The people are motivated with fear to loose a job or salary. Knowledge, competencies and creativity are concentrated in hands of top-level managers. The work is strictly controlled, every 6-8 workers have supervisor, every 6 – 8 supervisors have a manager, hierarchy is highly explicit. The relation between the manager and workers is similar to the one of slaveholder and slave, a worker is not important for existence of the organization.
In the other, voluntary autocratic system, the philosophy is based on the following: the people are seen similarly as in the first system, however, the policy is not exploiting. The people are motivated, besides the fear and salary, also by their status in the organization. This organization usually has a lot of advancing levels and a lot of high-sounding titles. The knowledge, competency and creativity are still concentrated on the top-level, however, confidence in knowledge of some technical collaborators is shown. The work is broken into a number of assignments, with a manager being obliged to ignore them. The relation between a manager and a worker is similar to the boss and servant relation, namely is based on distrust.<![if !supportFootnotes]>[72]<![endif]>
In the third, consultative system, the philosophy is based on the following: people are desirable, even needed for good jobs to run. Well dressed, they will accomplish their assignments well and without external control. When the "hygiene" factors are met the motivation derives from the job – high demands, growth, acknowledgement and contribution. The knowledge, competencies and creativity are widely represented in the organization, the management has no answer to all questions, so that consultation is a standard for decision making. The work is considered as a complex process, and the management is responsible for creating organization's culture. The relation between managers and workers is the relation of an adult towards another adult.<![if !supportFootnotes]>[73]<![endif]>
In the fourth, participative system, the philosophy is based on the following: people have status as in the third system. When "hygiene" factors are met the motivation derives from jobs – demand, growth, acknowledgement and contribution. The people are considered as being broadly trained and creative, so the job of a manager is transferred into assignments of a team, which naturally has the leader's and manager's role. The work is considered as being complex, the teams are responsible for technical, manager's and leader's performances. The relation between manager and worker is the relation between an adult towards another adult, while the job of leader is training and equalizing.
The practical value of this model is in that the upper systems are the basis for examining organization - in which system it actually is. The less consultative organization should represent a benchmark for the HPO organization, and it is desirable for it to gradually get changed in order to adopt philosophy and standards of a participative organization. Based on leader's assessment it is estimated to which system the organization belongs, or, if the answers are dispersed in various systems, then such organization belongs to the zero system, which could not be called an organized system but a mixture of everything. The zero system is convincingly the system with lowest performances. Also, leaders answer to the question in which organization they would like to work, by which their competency to lead participative or consultative system is tested. It should be mentioned that the fourth system is still rare in the very United States. Besides assessment by leaders, the assessment by collaborators is also carried out – assessment of the existing and desired system.
The leadership philosophy is a guidepost for the nature of people, their motivation, distribution of knowledge, creativity, and responsibility. It should be a guideline in leading an organization. In the philosophy of HPO leadership the new thing is that it is based on full empowerment and alignment of all in an organization. It contributes to wipe out the hierarchic levels in an organization and to new motivation of employees. By considering an organization as something common to all in it, the full potential of its team members is released and leadership adopted by all collaborators in the organization.
The leadership functions are focused on "leadership job", NAMELY ON WHAT A LEADER ACTUALLY DOES. The leadership necessary for the HPO model is the leadership represented at all levels in an organization, each worker must contribute to leadership functions for an organization to be successful. The function of a leader is to find in each job the right answers per the following items:
· STRATEGIC CONSUMER'S VALUE ANALYSIS (SCVA)
· VISION/VALUES à STRATEGY/STRUCTURE/SYSTEM
· INTEGRATION OF SUPRASYSTEMS/STEWARDSHIP RELATIONS
· KNOWLEDGE/OPINION/CHANGE/RENEWAL
· ENABLE/TRAIN/INCOURAGE
Strategic consumer's value analysis should give answer to the following question:
1. Who are and who should be our buyers and consumers?
2. What do they appraise (want/need/expect) now and what will they appraise in future?
3. Who are our competitors and how do they affect us?
4. What is happening in the environment and how this can affect us?
The linkage of vision and values with the strategy, structure and system should enable awareness of the following answers:
1. What are the high performances for us, which are the higher moral values we serve and what is for us the desired future of the organization's higher levels?
2. Are visions and common values for a business unit defined and applied, are they harmonized with visions and values of organization's higher levels?
3. Strategic thinking: does the interaction between the mission/niche analysis and "business theory" result in strategic plan and are the operational plans based on it which result in increase of performances elaborated?
4. Do the values of business unit/organization allow the values (leadership philosophy, individual values, operative system values) to be action values (focused on the necessary and forbidden behavior) in order to be incorporated in the business culture?
Integrating Super-systems and stewardship relation understand the following:
1. Tighter linking of organizational parts into togetherness to allow the realization of a vision.
2. Stewardship role is required from an individual, to serve togetherness. One should act as a "host of a whole" and not as an "owner of a part".
Knowledge, opinion, change and renewal represent:
1. Personal learning, renewal, growth and change; demanding and using personal feedback.
2. Be on the "edge" of new knowledge both personally and organizationally, build up the organization of learning.
3. Using the best experiences from the practice, continual improvement.
Empowering and aligning are rather crucial words in philosophy but also in leadership functioning. But one should be careful and know that if an incompetent person is empowered, then bad decisions will be made faster.
There are four levels of knowledge and a leader should reach the last one for his knowledge to become distinctive. Although according to our system (and according the adopted Chinese system respectively) the highest degree of learning is I know that I know, such relation is not applied in this model. A leader is a "spoiler", always throwing system out of its axes and setting new direction and discovering new possibilities. To succeed in this, he must be a complete person, however in such way that his knowledge and experience determine the direction:
<![if !vml]>

<![endif]>
Figure 34: Four knowledge levels
(Source: Ibid., IV-22)
Leader's functions – enable, empower, encourage – for a leader means to:
1. Be a teacher and mentor, the bureaucratic behavior has to be cut off in its root.
2. Ensure necessary knowledge, skills and information for making good decisions.
3. Be provocative.
4. Remove barriers for empowering collaborators.
To answer why the leader's functions in many organizations are not performed, we will use the well-known time control matrix:
<![if !vml]>

<![endif]>
Figure 35: KII – HPO leader's job square
(Source: Ibid., IV-32)
Therefore, an HPO leader should "spend" most of his time working in the KII square, the square in which important jobs but less urgent ones are performed such as defining vision and values draft, so important for a high performance organization.
Transiting form the organization of problem solving of autocratic style, led by a group of several individuals, to the organization of participative style, leading by a team, takes place at each level of organizational mechanism. In the HPO model this is defined as a leadership form.
The activities include building collective leadership mentality, presupposing responsibility for merging organizational units in a whole, as well as creating "parallel organizational structures" where the strategic reasoning and leader's job may be performed rather than in hierarchically founded organization.
For leadership form we ask ourselves the following question:
· Does a unit/organization have an organizational "mechanism of changes" to ensure that the Knowledge/Opinion/Change/Renewal appear at all levels (parallel organization)?
· Does a unit/organization have a good balance between the "reasoning" and "behavior" at all of its levels?
The goal is to change a form, to move towards building parallel organization, which will be more appropriate to the present-day conditions of changes in an environment. We have already been acquainted with the desired form of parallel organization, and that is a network talent model.
In designing an HPO we first deal with a procedure of how we can, out of initial system of organization according to Likert, come to the effective last participative system S4. Organizations in the initial authoritative systems S1 and S2 have strong and stratified organizational pyramid. The relation between the superiors and subordinates is identical to the relation between parents and children. Personal interests prevail over collective ones. The executives deal mostly with urgent jobs (squares KI and KIII in the time control matrix). The HPO tends to be in the system S4, to be an organization with leader's teams at all levels.
A leader's team is defined as a team of collaborators gathered together because of a permanent or temporary job within an organization, and all team members have equal rights and responsibilities. Each team member is as valuable as any other member. Equal importance of all in the team and their "being" in leader square KII still does not exclude a hierarchy. The hierarchy is the first and only then empowering and alignment. The leader team has an assignment to use potential of all team members to the maximum.
Forming HPO may be a long-lasting procedure. It is important to know that systems may not be jumped over and then to proceed to the last one immediately. In order to reach system S4 it is important to be (and probably for a long time) in the system S3. It should be always kept in mind that S4 is the final aim, and when we have such approach we can say that we are in the system S3+.
<![if !vml]>

<![endif]>
Figure 36: Hierarchic and Parallel Organization
(Source: Ibid., V-7)
Therefore, teams are gradually formed, which are indoctrinated with leadership and which, still insisting on the management philosophy, become S3 – the consulting teams. Visions and adopted values, along with new effectiveness, which a team accomplishes, condition the transition of the team from S3 into S3+ form. This form is excellent, because it is necessary for all teams to reach this form so that afterwards the whole organization would come into S4 – the organizing form and participative phase.
The indoctrination with leadership should start from the top level, because the first leader's team required for creating HPO is a managing leader's team:
<![if !vml]>

<![endif]>
Figure 37: Management Leader's Team
(Source: Ibid., V-8)
After establishing an effective leader's team on top level, it is necessary to form teams for particular projects, out of workers at various levels in the organization who have special expert knowledge, by taking into consideration psychological type of a person. The project management based on mission niche is a suggested approach.
Instructions as how to behave within the parallel organization are:
· The "normal" hierarchic organization rules are abolished, all team members are equal in a parallel organization, the decisions rare made by consensus.
· The focus is on achieving the best solution for the team as a whole, the team members have to be dedicated to the organizational visions and values.
· All get "promotion", each team member has to "promote" himself for two levels, in order to have a sense of entirety, the sense of associate owner of the organization.
· The regenerating culture is critical: relationships based on confidence, honesty and respect.
· Confidentiality – is often necessary, because of an open atmosphere, a rule should be established according to which out of team only decisions will be made public, and not what someone said.
· There is no retaliation because of decisions made, but because of non-observance of rules of the team itself.
· Mandatory observance of these rules is obligation of each team member, just as performing working process is.
Therefore, we observe the project team form. In an HPO, it emerges out of the employees from various hierarchical levels of the old organization.
<![if !vml]>

<![endif]>
Figure 38: Project leader's team
(Source: Ibid., V-9)
In a team of parallel organization the decisions are made by consensus. It proved to be the best manner of decision making in a democratic organization. The consensus is reached when all team members:
· feel that they have been listened to;
· believe that the discussion has been open and honest;
· are convinced that they have faced with and discussed all important options and information;
· personally feel that they are "in possession" of the decision, as if they alone have made it and then they will actively support it.
Finally, we come to the final form S3+, which will in certain time "slide" into the final form of leader's organization S4.
<![if !vml]>

<![endif]>
Figure 39: Leader' teams at all levels on the HPO
(Source: Ibid, V–10)
The best way to obtain an answer about an HPO leader would be by doing researches on leaders of effective companies. One of such five-year researches has been published.<![if !supportFootnotes]>[74]<![endif]> But, let's first give data on a sample: out of 1,435 companies from the Fortune 500 in the period 1965-1995, by using the process of selection, it was found that there were companies which had index of growth at least three times greater than the New York Stock Exchange average, and they maintained it for at least 15 years. Such companies are called great companies. They had to be good companies that had rate of growth of shares at least 1.25 times greater than the Stock Exchange rate. They had to be the companies already existing and not the newly established ones, while their success should have not stemmed out of the economic branch success. The final number of such companies was 11, with an average growth of 6.9 times greater than the average growth of American economy. A dollar invested in these companies in 1965 after 30 years was worth 471 dollars, while investing in general markets would have rejected 56 dollars. In the paper they were compared with good companies of similar size and age, in the same branch and with similar products and services. Also, a group of unstable companies was introduced having some similarities but which had a distinctive peak in growth and fell fast, with the cycle that lasted less than 10 years. It is important to notice that with great companies the criterion was to further maintain the growth of shares at the time of researches.
| | | |
| --- | --- | --- |
| GREAT COMP. | COMPARED COMP. | VANISHED COMP. |
| Abbot | Upjohn | Burroughs |
| Circuit City | Silo | Chrysler |
| Fannie Mae | Great Western | Harris |
| Gillette | Warner-Lambert | Hasbro |
| Kimberly-Clark | Scott Paper | Rubbermaid |
| Kroger | A&P | Teledyne |
| Nucor | Betlehem Steel | |
| Philip Moris | R.J.Reynolds | |
| Pitney Bowes | Addressograph | |
| Walgreens | Eckerd | |
| Wels Fargo | | |
Figure 40: The companies taken from "GOOD TO GREAT" research
(Source: Collins Jim, GOOD TO GREAT, Harper Business, USA 2001, pg.8)
The greatest shock for researchers was that all 11 great companies had CEO leaders which were of the "same kind"<![if !supportFootnotes]>[75]<![endif]>. The leaders leading great companies are called the level 5 leader.
<![if !vml]>

<![endif]>
Figure 41: Level 5 leader and other levels
(Source: Ibid, pg.20)
Level 1 includes individual competency, level 2 the team work skills, level 3 a competent manager, level 4 a traditional leader. Level 5 contains all from the preceding levels along with an "extra dimension": paradoxical mixture of personal modesty and professional will. A level 5 leader directs his ego further from himself setting as his higher goal the creation of a great company. This does not mean that he is not ambitious, he is actually very ambitious, however, his ambitions are directed towards the institutions and not towards his own self. An interesting dual character of personality is reflected with them: modest, but willful, humble, but fearless. They as a rule do not speak about themselves but about the organization. The researches show that they as a rule come "out of home" contrary to the leaders of the compared and vanished companies. The compared companies have engaged six times more outsiders for the CEO than HPO have done. Also, compared to them a level 5 leader appoints his successor at quite early stage and trains him for a successor. They will stoically and uncompromisingly do all that is necessary for the existence and growth of their organization. They are fanatically infected with producing results. When they speak about their success they say that they have been lucky. When they speak about failures they blame only themselves. Level 4 leaders do the very opposite, for their failures they blame bad luck, while they ascribe a success to their credit. I would like to notice once again that level 5 leader is not an ideological guideline, but an empirical fact.
After publishing the book, Collins has gathered a great base of level 5 leaders from all spheres of society. He has concluded<![if !supportFootnotes]>[76]<![endif]> that in human population there are much more of such leaders than of egocentric ones who are more represented in media. Our culture and media like leaders who are greater-than-life, and those quiet, modest and effective ones. The problem is not in shortage of the level five leaders. They are actually everywhere around us. The dynamic changes expected in this century will condition our attention towards them so that economy and society could successfully cope with changes, because they are the key to overcoming them effectively. The task of society will be to identify, cultivate and develop them.
Effectiveness of a level five leader in the 21st century will be founded on the following assumptions:<![if !supportFootnotes]>[77]<![endif]>
1. Leaders should define the inside and outside of an organization according to firm organizational values and visions and not according to traditional limits and restrains. They must keep values in order to stimulate progress.
2. Leaders should build mechanisms of bonds and obligations based on freedom of choice, and not rely on systems of coercion and control. Democratic values and democratic system of an organization appear as inevitability of making choice.
3. Leaders should accept the fact that the right leadership is in reverse proportion with leadership based on power. The right leaders of the 21st century are only those whom people follow when they are free to do that.
4. Leaders should encompass the reality in the whole of its complexity. All barriers that have existed so far must no longer exist for leaders of the 21st century; all barriers should become archaic.
Effective leaders:<![if !supportFootnotes]>[78]<![endif]>
· Define mission of an organization as a framework for performing activities.
· Create flexible environment in which people are not only esteemed but also encouraged to achieve their full potential, where everyone is treated equally.
· Shape corporate culture in order to replace conformity, obedience and mechanical behavior with creativity, autonomous and continual learning.
· Transform organizational forms from a rigid pyramid towards the fluid circle, towards the developed network of autonomous units.
· Encourage innovating, experimenting and risk taking.
· Anticipate the future by reading the present.
· Make new bonds within organizations and new connections within collaborating teams.
· Establish new alliances outside their organizations.
· Constantly study organizational forms of both their own organizations and those in the environment.
· Identify weak links and replace them.
· Think globally rather than nationally or locally.
· Identify and respond to new and unforeseeable needs of collaborators.
· They are proactive, not reactive, and comfortable towards ambiguity and uncertainty.
The present-day leaders are a basis for democratic development of today, in which the power is distributed and not concentrated. The first leader, a level 5 leader, will succeed in responding to changes of this century. It is crucial that he accepts the human nature as such and to respond to it. The emotional intelligence has for the first time been developed in this direction.
We will proceed in explaining the "Good to great company"<![if !supportFootnotes]>[79]<![endif]> concept. We have already shown that a particular type of leadership and leaders is required for a company to become great. This is a LEVEL 5 LEADER. A level 5 leader is major but not the only component of a great company. Other components are in what a level 5 leader does, and this will be shown hereinafter.
FIRST WHO … THEN WHAT. Also, the (non-)importance of plans in great companies has unexpectedly been discovered. Researchers have expected that the first step towards the road to a great company is in establishing new directions and strategies for the company, and only then, based on them, the people would be lead. However, they have discovered a completely different thing. Great companies first start by engaging the right people and then by making plans. If one starts with "who" rather than with "what", then adapting to changes will be easier. If the right people are employed, the problem of motivation and management becomes easier. There is no great company with wrong people. The old syntagm that the people are the most important value of a company is not valid in great companies. The right people are the greatest value. On the road leading to changes, if the company is imagined as a bus, it will take the right people on the bus, and throw out the wrong ones and then place the right people into the right seats. Great companies will assign to the best people the jobs with greatest chances, and the jobs burdened with greatest problems. Leaders of great companies are rigorous, but not merciless. The compared companies had much more dismissals then the common ones. The manner of work in the compared companies is a "genius with thousands assistants". In them only a head man is of crucial importance while all the others are consumer goods.
<![if !vml]>

<![endif]>
Figure 42: "Good to great" concept
(Source: Ibid, pg.12)
FACING BRUTAL FACTS. For great companies the data are more important than desires. Great companies constantly compare their high performances with brutal facts form the environment. The level 4 charismatic leaders often cannot stand the picture from the environment not coinciding with their view on own successfulness. And indeed, the charisma is rather a shortcoming than necessary component of successful leadership. The climate in great companies is such that the truth is always heard. Faced with brutal facts, the great companies never loose faith. This is a so-called Stockdale paradox. Stockdale is an admiral in the American Army and was the top rank officer captured by Vietnamese in the Vietnam War. He was confined for 8 years under very severe conditions. His behavior was brave and inspired other captives. After being released he was one of the most decorated American officers. His story is well known saying that the first to give up hopes in prison were optimists – those who expected that they would be released soon or during some of the holidays. On the other hand, the pessimists were none better either. Based on this, an effective model of survival is made: keep faith that you will withstand until the end whatever the difficulties are, AND AT THE SAME TIME face all brutal facts of reality, whichever they are. This is the Stockdale paradox. In great companies the leaders say that the most effective collaborators are those who have been war prisoners.
THE HEDGEHOG CONCEPT. It is a well-know fable in which a cunning fox tries in many ways to eat a hedgehog. The hedgehog defends himself always in the same manner – he has his spines and the fox can't do him any harm.
<![if !vml]>

<![endif]>
Figure 43: The Hedgehog Concept
(Source: Ibid., pg.96)
The concept of a hedgehog is a simple concepts deriving from crystal clear understanding of the following three circles:
1. In what matters can you be the best in the world (and, equally important, in what you can't)? The aim is not to be the best or a strategy how to be the best, it is awareness in what matters one could be the best. The great companies will change their major activities uncompromisingly if they understand that in some other activity they can be better than in those they are in.
2. What starts your economic engines? The great companies have spectacular results in very non-spectacular industries. The central point is that every great company understands what is crucial in its economic development and builds a system based on this understanding. As a rule, this is only one denominator, because it better illustrates the essence than a group of dominators. With great companies this may be: profit per employee, profit per buyer, profit per visit of a buyer, profit per local population, profit per level of risk, profit per brand, and profit per geographical region.
3. What is your deepest passion? The great companies, contrary to the compared ones, are not in business only to make money. This is for them in second place. For them it is much more important to like their business, to feel tremendous passion towards it.
This process of uniting three circles into one is not fast. It has to run for a long time. In the researched companies it has ran for 4 years. The compared companies are rather like foxes. They commence many deals and they do them by storm.
CULTURE OF DISCIPLINE. Great companies have discipline culture. This is not a tyranny. This is an organization with high level of discipline and high level of entrepreneurship simultaneously. The discipline culture is not stemming out of a system but people. The culture in great companies is based on freedom and democracy, while insisting on the right people and crystallizing hedgehog concept will enable the people to be managers to themselves. With disciplined people the hierarchy is not required, the "red tape" is not required, extensive control is not required. With unstable companies the success has also been based on discipline. Actually, on the discipline of a tyrant the growth would be spectacular, and after the tyrant would leave, the discipline would quickly be lost and the fall would be dramatic. Great companies make a list of jobs they will not perform, make budget items they will by no means finance. All this based on the hedgehop concept, however attractive it may appear, will neither be done nor financed.
TECHNOLOGICAL ACCELERATOR. Great companies think in a different way about the role of technology. They never take technology as a prime motive of transformation. On the other hand, they are pioneers in applying carefully chosen new technologies. If new technology could be used according to hedgehog concept it will be used immediately, and if not, it will not be even noticed. Great companies use technology as an accelerator of development, they are not a creator of development. Effectiveness and high performances of great companies are merit of a level 5 leader. Average results of the compared companies have derived from failures of their managers, and because of errors of technologies. An effective approach of great companies is "crawl, walk, run", even in times of rapid and radical technological changes. 80% of the interviewed level 5 leaders have not placed technology among the first 5 factors of success. However, great companies are, when compared to other companies, in many ways pioneers of new technologies.
FLYWHEEL. Although outsiders often think that a change of a company from good to great is a miraculous moment, this does not coincide with the reality. For those inside reaching high performances represents a conditioned development process. They are often not even aware of how good their results are. By building and rounding a concept the circle closes and this circle starts to revolve. Once, twice … five hundred times. The compared companies actually like revolutions and dramatic programs of changes. Such approach does not provide results and as a rule fails. Great companies have no names for their transformations. Many of the level 5 leaders have claimed that they have not been aware of great transformations until they have turned back. For great companies there is a simple truth: great power lies in the possibility of continual improving and realizing results. The difference in managers and acquisitions may be noticed between the compared and great companies as well. The compared companies often want to make a great move forward by purchasing other enterprise or merging with it. This usually does not work. Great companies first make a move forward, and then enter in purchasing or merging with others. They use managers and acquisition as a flywheel.
General conclusions by Collins and Porras are that good is the greatest enemy of great. This is a major reason why so little of good becomes great. We should not be satisfied with good, we should strive towards great.
Another Collins's<![if !supportFootnotes]>[80]<![endif]> research is dedicated to the visionary companies, namely companies which are:
· institutions in their industries,
· widely known and recognized by respectful businessmen,
· have left a visible mark in the world we live in,
· have had several generations of leaders,
· have gone trough several production life cycles (or cycle of services),
· have been established before 1950.
They are compared with the companies of similar character, similar period of establishment, but of somewhat worse performances. The visionary companies may be said to be golden medal holders, while the compared companies the silver medallists. The choice of visionary companies is the result of a poll carried out amongst the 700 most important business leaders in the USA. The elaborated concept is called "built to last":
| | |
| --- | --- |
| VISIONARY COMPANIES | COMPARED COMPANIES |
| 3M | Norton |
| American Express | Wells Fargo |
| Boeing | McDonell Douglas |
| Citicorp | Chase Manhattan |
| Ford | GM |
| General Electric | Westinghouse |
| Hewlett-Packard | Texas Instruments |
| IBM | Burroughs |
| Johnson&Johnson | Bristol-Mayers Squibb |
| Marriot | Howard Johnson |
| Merck | Pfizer |
| Motorola | Zenith |
| Nordstrom | Melville |
| Philip Morris | RJR Nabisco |
| Procter & Gamble | Colgate |
| Sony | Kenwood |
| Wal-Mart | Ames |
| Walt Disney | Columbia |
Figure 44: Companies from the "BUILT TO LAST' research
(Source: Collins Porras Jerry I., BUILT TO LAST: HABITS OF VISIONARY COMPANIES, Harper Business, USA, 2002, pg.3)
The first to be noticed is a negative correlation between a charismatic leader and building visionary company. The greatest creation of a visionary company is the company itself. Visionary companies have freed themselves from the "tyranny of OR" and work according to the principle "ingenious AND". They are able to encompass differences in many dimensions simultaneously. They do not choose between changes OR stability, they have changes AND stability. Profitability is a condition for long-lasting existence of a company but it is not a key to its existence. The key to existence is keeping higher values of reasons because of which a company exists during the course of time. A basic ideology of a visionary company is composed of basic values and visions or purposes of existence. The ideology of the Disney Company is, for instance: BRINGING HAPPINESS TO MILLIONS OF CHILDREN. One of the leaders of a visionary company has emphasized that an organization has to accept changes of ever changing environment, has to be ready to change all except for its major convictions moving it forward, that the only organization's "sacred cow" is a basic philosophy of business running. That's how visionary companies operate: keep essence / stimulate progress. There are five categories of specific methods for preserving essence and stimulating progress:
1. BIG HAIRY AUDACIOUS GOAL (abbreviated: BHAG). This is actually surrendering to challenging, audacious and often risky goals and projects through which visionary companies direct their efforts and stimulate progress. The BHAG has to be a goal, has to be outside comfortable zone, has to be isolated for employees, has to be consistent with the ideology of a company and must not be lonely, but has to be continued with other BHAG as well.
2. CULTURE OF CULT: Visionary companies are great places to work in for those employees fitting in the major ideology. Those who do not fit in it are rejected as a virus, in order to preserve values. Visionary companies are not soft, on the contrary, they have standards, they are elitist, and they often have their own language, which may sound unfamiliar to those outside the elite. Workers fitting in the ideology are the workers who may be entrusted with a high operative autonomy.
3. TRY MANY THINGS AND KEEP THOSE GOOD ONES: As a rule, in visionary companies the best moves forward are not the fruit of the detailed strategic planning, but rather of experimenting, trials and errors and sometimes even of an accidental case. High level of actions and experiments produces new unexpected progress roads. This is evolutionary progress stimulator, while the BHAG is revolutionary one.
4. INSIDE MANAGEMENT: Visionary companies promote from the inside; only people who have spent considerable amount of time in a company climb to top level positions. In such way a company maintains is values. In 700 years of a combined history of visionary companies there have been only four cases where general directors have come outside the company. In the compared companies, 22.1% of general directors have been outsiders.
5. GOOD IS NOT ENOUGH: Visionary companies are in a continual self-improvement process aiming to be better and better both today and in the future. They stimulate the process by setting top standards to themselves. The right question the visionary companies ask is whether this is appropriate for us, and not whether this is good for us.
The essence of visionary companies is not in the existence of written visions and values, because the compared companies also have this, but in transforming essential ideology, along with eagerness for progress, into concrete assignments in an organization: goals, strategies, tactics, behavior, payment system, bookkeeping – in everything a company does. All that company does is to be aligned with basic values.
<![if !vml]>

<![endif]>
Figure 45: Concept "built to last"
(Source: Ibid., pg. 88)
The researches on the long-lasting have been carried out prior to the researches on greatness. However, Collins is of opinion that the good to great concept precedes the built to last concept. The first concept produces the high performance results, while the second concept shows how the high performance results become long lasting. For a great company to become long-lasting one it should take over the built to last concept and strive towards great, towards the best. It is not more difficult to build something great than to build something good.
Seven habits of highly effective people<![if !supportFootnotes]>[81]<![endif]> is a standard for training potential leaders in the USA. The first one is also a basic training because it is focused on building leader's personality.
<![if !vml]>

<![endif]>
Figure 46: Seven habits of highly effective people
(Source: Covey Stephen R., THE 7 HABITS OF HIGHLY EFFECTIVE PEOPLE,
Simon & Shuster, USA, pg.53)
Our character is basically composed of habits. A habit is defined as a set of knowledge, skills and wishes. Out of 7 habits those first ones are directed towards building effective personality while the rest towards building effective social relations.
Habit No.1: BE PROACTIVE. This is a personal vision principle. The only vision we have about ourselves is coming from the so-called social mirror, namely from the people around us, and our image may often be deformed. Often, our response to some stimuli may be such that we cannot comprehend it later. There is a well-known story about Victor Frankl, a prisoner of the Nazi death camp. Frankl was a psychoanalyst belonging to the Freud's school and was suffering in the camp just like all others. One day, standing in front of a gas chamber, he was thinking how his lectures to students would be after the War. Soon, he alone could decide how things that affected him would really affect him. Frankl projected himself into other circumstances and suddenly he had much more freedom than even his jailers did who, like others, admired him. Frankl survived and his future works were based on a postulate, not at all close to Freud's one, according to which a man had freedom to choose between a stimulus and response. This is a proactive model. The freedom of choice should be based on our conscience, free will, imagination and self-confidence. A proactive man takes initiative. The proactive approach may even be felt in everyday speech of such man. What a proactive man does is spreading his proactive focus based on positive energy. A man's circle of influence is generally smaller than the circle of anxieties. Proactive people expand their circle of independence, namely what they actively control, thus reducing the circle of anxieties, namely activities over which they don't have direct control.
Habit No.2: BEGIN WITH THE END IN MIND. This is a personal leadership principle. The exercise explaining this habit is the following: imagine that several decades have passed from the present moment and imagine being amongst known people, but in an unknown place. Now imagine that you are at your own funeral. Four people describe what kind of person you have been, one of them representing family, the second friends, the third colleagues and the fourth representing neighbours. Could you say what would each of them say? Could you say what would you like them to say? The point is in that you always have in mind the very goal and vision that you would like to realize regardless of difficulties you come across. This principle is based on a presumption that all things are created twice: first creation is mental - in head, and the other one is physical - in life. Covey suggests that everyone should write his own Constitution which will be his own vision, his mission and guiding principle. In order to achieve this, one should look deeply into himself, into a center of his circle of influence and find basic principles there. Principles are like a compass showing your present direction. The one who in the center finds: himself, his spouse, family, money, work, property, satisfaction, friendship, hostility, or church, he is wrong, he is not a man based on principles. For such visualization to be possible, a man must be able to use the whole brain, especially its right side.
Habit number 3: PUT FIRST THINGS FIRST. This is personal management principle. The first habit says you are a creator, you are responsible for yourself. The second habit is a mental response of our proactivity, based on imagination and consciences. Third habit is physical creation, personal fruit, practical fulfillment of the first habit. In this habit the know time matrix is learnt and K2 quadrant is explained, already explained. In order to become K2 self-manager, Covey suggests the following activities:
1. The first assignment is to define key roles, such as for example: personal role, role of parent, as of spouse, of a member of some society or association.
2. The next step is to set goals for each of these roles, namely important results we wish to accomplish.
3. Third step is making schedule of obligations to be fulfilled to unite these roles and goals.
4. Daily adapting of obligations: daily planning on weekly base is suggested. While planning one should see which of the obligations may be delegated as well.
To proceed with habits which will bring us public victory, the interdependence paradigm is to be explained first. From the first three habits a man has moved from the state of dependence into the state of independence. However, a man is not a wolf, he is not a lonely individual. He is in society and he must, out of these relation and dependence, also realize a progress. Emotional intelligence and emotional approach are the key of such relations.
Habit number 4: THINK WIN-WIN. This is interpersonal leadership principle. The author of this book has been asked by a manager to help him in his work with people. He has told him that they are selfish and not willing to work in a team. Covey has gone to the meeting. The manager has opened the meeting and asked: "why don't you work in a team, if we work in a team we will have much more money". He has told Covey that the present consultant would show him how he has stimulated team work. Then he has taken out a poster showing racing horses on a start line. Photographs of each collaborator separately have been attached to horse's heads and on the goal a photograph of Bermudas glued. The manager has actually not understood that he has not awarded the team work but a success of one and the failure of other collaborators. The habit of an effective interpersonal leadership is to think victory/victory. This is not a technique, but philosophy. In fact, this is a philosophy victory/victory or otherwise there is no contract. This is a belief that there is an alternative, which is neither my way nor your way. This is better way, more effective way. Other paradigms are: victory/defeat, defeat/victory, defeat/defeat, and only victory. When it is not possible to reach an agreement from which all benefit, then it is better to withdraw with honor and proceed to the option that there is no contract. A high degree of deference and courage is required to come to the level victory/victory and, if it is based on principles, it is fundamentally important for a success in life.
Habit number 5: SEEK FIRST TO UNDERSTAND, THEN TO BE UNDERSTOOD. This is empathic communication principle. Empathic listening is the essence of understanding feelings of another being. When we listen to the others it is not important only to listen but it is important also to feel. Even a physician does not give a prescription before he makes a diagnosis. People often link their feelings to objects, and while speaking, they speak about objects and not feelings. In order to understand this, there are 4 development phases of "drawing" feeling out of the real context of an interlocutor's works:
1. Repeating context.
2. Paraphrasing context.
3. Reflecting feelings.
4. Paraphrasing context and reflecting feelings.
When you understand the interlocutor … then he has to understand you. This is critical for the victory/victory solution. It is suggested that in the business world you should always have an effective presentation. Its preparation must always precede its performance. The more time you spend in preparing your exposition or presentation, the better chances you have in being understood. My experience as a leader tells me that many problems are soluble only and exclusively by improving communication.
Habit number 6: SYNERGIZE. This is a creative cooperation principle. When Winston Churchill promised to the British the blood, sweat and tears in the war with Nazis, many thought that these words came into his mind in that moment. Churchill said later that he felt as if he prepared himself for that moment the whole of his life. Practicing all the above mentioned habits prepares us for such habit. Synergy is the highest activity in life – a real test and manifestation of all other habits taken together. By a complete joining of habits together new alternatives are created – results may be miraculous, something that has never existed before can be created. Synergy is vital in communication. The synergic communication is a real communication based on the victory/victory postulate. It is the result of high level of confidence and cooperation. The medium level of communication is respected communication, based on compromise, and the lowest level is defensive communication, based on defeat/victory or victory/defeat communication. Synergy is 1+1=3, and maybe even 500. The result of a compromise is ½, the defensive result approaches to 0 or is pure 0. Synergic communication awakes creativity and points at new alternatives. Let's imagine two colleagues in an office, one wants to open a window while the other objects. Synergic communication would be the knowledge that one wants to open the window because he lacks fresh air, while the other objects claiming the wind would take his papers from his study. The possible results are to open the door, open the window in a side room and put something heavy on papers, or anything else. The essence of synergy is evaluating risk, actually evaluating mental, emotional and psychological differences between people.
Habit number 7: SHARPEN THE SAW. This is balanced self-renewal. If we sharpen the saw we shall cut woods easier. If we renew ourselves the life will be easier. There are 4 renewal phases:
1. PHYSICAL, based on exercising, nutrition, and managing stress.
2. SPIRITUAL, based on searching for deeper inner goals, meditation, bonds with nature.
3. MENTAL, based on reading, writing, planning and thinking.
4. SOCIAL/EMOTIONAL, based on serving, empathy, synergy, and inner security.
Practicing Covey's 7 habits is a basis of each effective leader and each effective man. When combined, they enable us to feel great power in our own selves.
We have seen that the two esteemed scientists, Collins and Covey, have mostly found their inspiration for leadership in survived war prisoners such as professor Frankl and Admiral Stockdale. An article from the HBR<![if !supportFootnotes]>[82]<![endif]> gives the right picture of what is the essence of these two men and what should effective leaders have. And that is elasticity.
The characteristics of elasticity are:
1. Capacity of facing and accepting reality.
2. Ability of discovering the essence in certain aspects of life.
3. Possibility of improvising.
The elasticity is necessary both to leaders and high performance organizations. When we are aware of reality we get ready to respond in such way as to survive. Searching for the essence means discovering values that are basis of our existence. Improvising is an art of solving problems. The elasticity is one of the most important topics in business circles today. More than education, more than experience, more than training, the elasticity level is a determinant of who succeeds and who doesn't. This is true in a fight with a cancer, this is true on Olympic Games, and this is true in an office. Elastic people have ability to construct their future out of their today activities.
The Morgan Stanley is a well-known investment bank. It was the greatest premises lease-holder in the New York World Trade Center, demolished in the terrorist attack on 11th September 2001. The Company had 2,700 workers in the southern tower on 22 floors, between 43rd and 74th floor. The first airplane hit the northern tower in 8:46 hrs, and in 8:47 hrs, the Morgan Stanley commenced evacuation. 15 minutes later, when the second airplane hit their tower, their premises were completely empty. The airplane hit directly in the Bank premises…
In 1993 there was the first terrorist attack on the WTC and the Bank management, which showed such elasticity 8 years later, were aware that they work in a symbolic center of American power and that it is vulnerable to terrorist attacks. They started to develop a program of readiness to terrorist attacks, for which the elastic vice-president Rick Reskorla, highly decorated Vietnamese veteran, was responsible. By exercising military discipline, he ensured that people would be trained to cope with a catastrophe. He managed to make the Morgan Stanley ready for the gravest reality. And not only the employees but technology and data as well. The data saving system was made on several locations and all data were saved.
On 11th September the Bank lost only 7 men out of 2,700 workers. Rick Reskorla was one of them.
We have got familiar with the leader's basis model<![if !supportFootnotes]>[83]<![endif]>, derived from the researches of 25,000 leaders. Zinger and Folkman found that the following makes a basis, foundation of a leader:
1. CHARACTER,
2. PERSONAL CAPACITY,
3. FOCUS ON RESULTS,
4. INTERPERSONAL SKILLS, and
5. LEADING ORGANIZATIONAL CHANGES.
The main conclusion of the researches is that the leadership paradigm is wrongly presented. We don't need a wide range of programs and mass teaching of leaders, but what we need are great leaders. We don't need to develop leadership, but to produce great leaders. Great leaders make great difference.
<![if !vml]>

<![endif]>
Figure 47: Leaders effectiveness and consumer's satisfaction
(Source: Zenger John H. et al., THE EXTRAORDINARY LEADER:
TURNING GOOD MANAGERS INTO GREAT LEADERS,
McGraw-Hill Trade, USA, 2002, pg. 36)
It is interesting to notice that the results of researches show that only great leaders make great difference. The following graph shows that upper 30% of leaders according to their successfulness have great deviation in results of researches on their successfulness. The first big jump is noticeable in the first third of the researched population. The second third of the researched "good leaders" shows that a good leader, wherever on the scale from 30 to 60% of successfulness, is estimated to have medium results. Only the last third of leaders is estimated as great leaders.
<![if !vml]>

<![endif]>
Figure 48: Leader's effectiveness and satisfaction of collaborators
(Source: Ibid., pg.30)
One becomes a great leader when what is already powerful and strong in him is improved. There lies the essential difference between a good and a great leader: a good leader develops the competencies in which he is weak to an average level, while a great leader develops the competencies in which he is above average and brings them to perfection. The philosophy of effectiveness is in intensify competencies in which you are strong.
<![if !vml]>

<![endif]>
Figure 49: Classic approach: improving weak competencies
(Source: Ibid, pg. 30)
Classic approach in work on weaknesses is based on mediocrity and produces mediocrity. The essence of this approach is in improving competencies in which a leader is below average.
<![if !vml]>

<![endif]>
Figure 50: Modern approach: improving strong competencies
(Source: Ibid, pg. 138)
Modern approach is based on superiority and it is essentially oriented to building effective leaders.
Another data obtained from researches provide us interesting information on relation between the strong competencies and effectiveness of leaders, based on assessment of their collaborators.
<![if !vml]>

<![endif]>
Figure 51: Dramatic rising of effectiveness
by increasing strong competencies
(Source: Ibid., pg.147)
As evident, already one competency in which we are strong increases our effectiveness to even 64%. Only 3 competencies in which we are strong give us assessment of effectiveness of over 80%. There are 4 explanations why the competencies are linked:
1. Strength in one competency creates powerful "halo effect".
2. In the development process of any competency an individual develops also other, linked skills.
3. Self-confidence of an individual is raised when any competency or skill produces success. The success in the development of one competency raises confidence in trying to develop others as well.
4. The level of aspiration grows when people succeed in one dimension. This encourages them to set new goals at higher level and new ever more demanding assignments.
It's interesting to mention that the combination of interpersonal skill and focusing on results is the best one considering that 66% of great leaders possess these competencies taken together.
It should be mentioned that the approach of improving superior competencies is not valid in case when a leader possesses a fatal shortcoming. Extremely low score in one competency represents a fatal shortcoming and if people who have it improve their results in this competency, and their collaborators will assess that the total score of the assessed individual has dramatically increased.
<![if !vml]>

<![endif]>
Figure 52: Fatal flaws
(Source: Ibid., pg. 159)
There are five fatal flaws granting failure in leadership:
1. Lack of ability to learn from mistakes.
2. Lack of interpersonal skills and competencies.
2.1. Cold, rude, arrogant, and egocentric executive
2.2. Lack of basic social values and good manners
3. Lack of openness to new and different ideas.
4. Lack of responsibility for (un)achieved results.
5. Lack of initiative.
By observing these five behavioral frameworks the following facts have been crystallized:
1. All fatal shortcomings are extremely evident, everyone near leaders feels impact of such behavior.
2. Every fatal shortcoming is primarily an inability to do something. These are not ineffective actions but ineffectiveness deriving from non-acting.
3. All fatal shortcomings are rooted not only in not having intellectual but not having emotional intelligence.
Eliminating these shortcomings in their core provides increasing emotional intelligence of an individual. Technically, a correct and comprehensive feedback should be organized and its results used.
A great leader emerges from someone who, having natural gifts, and on the basis of practice, learning and experience, develops his gifts to perfection. Other knowledge deriving from this research is<![if !supportFootnotes]>[84]<![endif]>:
1. When compared with good leaders, the great leaders make great difference.
2. An organization may have many good leaders.
3. Goal is too low in development of leadership competencies.
4. The relation between the improved leadership and raised performances does exist, and is stronger than the linear one.
5. A great leader has several "basic blocks" of leader foundation.
6. Leadership is crucial and critical element in success in changes.
7. Not all components are equal. Some distinguish good leaders from great leaders, while others don't.
8. Leader's competencies are tightly linked.
9. Effective leaders have different personal styles; there is no one right leadership manner.
10. &n