SHARP SOCCER CAMPAIGN

ON YUGOSLAV MARKET

TABLE OF CONTENTS:
Campaign targets *
Target groups *
Date of campaign *
The concept of the campaign, and the ways it is conducted *
Planned media *
Financial plan *
Timetable of the campaign *
Campaign details *
List and position of choosen dealers *
Acquaint the Yugoslav public with location of the retail points, where SHARP products can be bought.
Promote SHARP products, sold on the Yugoslav market
Increasing the number of new customers.
Increasing selling of SHARP products.
The entire Yugoslav public.
Present and possible customers of SHARP products.
Dealers and retailers.
From the beginning of April, to the end of May.
Two separate sales promotion campaigns would be conducted.
First, the prize-winning contest organised, for the public at large using daily newspapers of the widest circulation. The aim of this campaign is to acquaint the public with selling pints of SHARP products and the range of products offered there, as well as the range of products offered to the commercial and industrial enterprises and state organisations and institutions.
The second campaign would be conducted in retail points, where SHARP products are sold, by giving prizes to customers buying SHARP products. The aim of this campaign is to develop good relationship between SHARP and the buyers of SHARP products, reflecting later in the customers remaining loyal to the firm and acquiring repeatedly SHARP products in future. It will also help the dealers to acquaint themselves with new selling techniques and means of promoting sales. Thus, the retail dealers would have an adequate approach to the buyers of SHARP products and their own profit, based on the effected sales.
For the first campaign, following media would be used:
BLIC, daily newspaper with the widest circulation, would be the basic medium.
National TV RTS-1, to announce the start of the campaign.
Local Belgrade TV, to announce the consecutive publishing of the coupons in BLIC.
Local TV stations all over the country, with the same task as the Belgrade one.
The campaign could also be supported by announcements on the radio and some specialised magazines.
For the second campaign, the following media would be used:
Local TV stations, the cost would be borne by dealers.
The media used in the first campaign, except BLIC, would carry a message covering both campaigns.
For the first campaign:
Amount of prizes: 10.000 DEM gross
Costs for additional advertising: 6.000 DEM
Lawyers fees and other expenses: 1.000 DEM
First campaigns total: 17.000 DEM
For the second campaign:
Prizes: 2.500 DEM gross
Other expenses: 500 DEM
Second campaigns total: 3.000 DEM
TOTAL: 20.000 DEM
| | |
| --- | --- |
| ACTIVITIES | DURATION |
| Approval of the campaign plan | Week 10 |
| Concluding the contract with BLIC and engagement of lawyers | Week 11 |
| Preparing of advertisement | Week 12 & 13 |
| Preparing TV spot | Week 12 & 13 |
| Other media buying | Week 12 |
| Procurement of products for prizes | Up to Week 14 |
| Procurement of promotions tools from SHARP | Up to Week 14 |
| Distribution of promotions tools among dealers | Week 14 |
| Start of the campaign | Beginning of April |
| The first advertisement in BLIC | April 6th |
| Reaming advertisement (8 in all) published on Monday, the last ad | May 25th |
| Prize-winning contest of the dealers | April & May |
| Distribution of prizes | According to draw |
The ad in BLIC would be conceived in three parts. One part contains the list of dealers. The second part carrying one of the production lines of SHARP (8 in all), including a picture of the best product or the one most sold. The third part contains the coupon. After each draw, list of winners must be published. The coupons would not contain questions and winners are in no obligation of buying a SHARP product. In this action, the emphasis is given to the world soccer cup and the slogan: MORE EXCITEMENT IN WATCHING THE WORLD SOCCER CUP THANKS TO THE SHARP PRODUCTS, or something alike.
Whereas, among chosen dealers, the prize would be won by buyers of SHARP products. In this case, there should be numerous prizes, won by as many customers as possible. In that sense, the dealers would get most of the prize fund received directly from SHARP. The dealers would be obligated to advertise this action separately at selling points as well as in local media. The best dealer of the month, i.e. the one who has achieved the maximum sales, would also receive a special additional prize that he would grant to one of the SHARP customers. In this action, the emphasis is on the SHARP buyers and the slogan: SHARP TAKES CARE OF CUSTOMERS AND GIVES THEM PRIZES, or something alike.
SENZOR, Belgrade
RAPID, Belgrade
JUGOSLOVENSKA KNJIGA, Belgrade
BUNDALO, Pančevo
ON LINE, Senta
OLIVETTI COMMERCE, Čačak
SARS, Podgorica
SIGMA COMMERCE, Priština
PARUS, Bor
BELL-TON SHOP, Novi Sad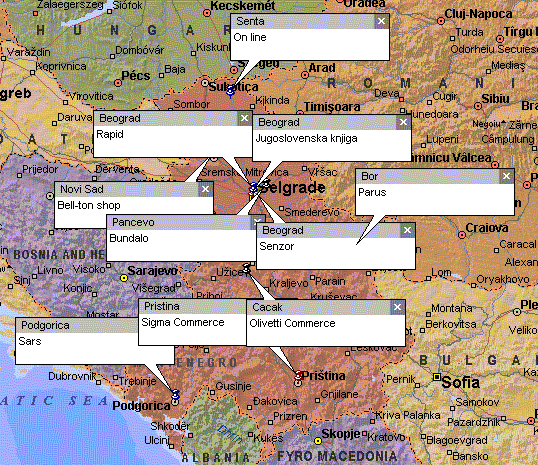 ---

SHARP SOCCER CAMPAIGN

ON YUGOSLAV MARKET
FINAL REPORT
TABLE OF CONTENTS:
Facts and Figuers about Campaign *
Produts for Lucky Winners *
Promoted products in ads *
Campaign budget *
Campaign effects *
List of choosen dealers *
SHARP SOCCER CAMPAIGN on Yugoslav market covered the period from June 2 to July 12, in daily sport paper "SPORT". We had 41 ad, more than ˝ of page (exactly 4/7, and the paper format is aprox. B-4). Every day we promoted one single, or a group of SHARP products, and in the same time we were presenting a list of 21 choosen dealers. We also used SHARP SOCCER Logo, with slogan: SUPPORT THE BLUE TEAM, SHARP WILL SUPPORT YOU! The campaign had sales promotion's effects, becouse in every issue, on the back page, were a coupons for SHARP BIG LUCKY DRAW. Lucky Draw was for all paper readers, not only for SHARP purchaser. Our strategy were to introduce the yugoslav public with location of SHARP stores and with huge asortiment of SHARP products. With mentioned slogan we sucsseded to make a difference between SHARP and competitions. Competitors had simple and inadequate slogans, i. e. WATCH SOCCER WITH OUR TVs, or similar. We belive, that we made better slogan, which had better relation between SHARP and WORLD SOCCER CHAMPIONSHIP. We received about 10.000 coupons from readers. Every week on award ceremony we had a guests - a famouse yugoslav sportsmans - which "find" the lucky winner. That ceremony had a successful Public Relations effect – the front page of "SPORT", with pictures.
"SPORT" is the oldest, the most popular and readible sport paper in Yugoslavia, with larger curculation then all others sport daily papers and magazines (50.000 daily). Also, "SPORT" readers are the people with larger incomes.
In the same period (May and June) we had the ads in weekly paper "NOVOSTI OGLASI", where we advertise some products with special price offer.
FIRST AWARD OF WHOLE CAMPAIGN
TV 54AT/15SC and VCR VC/M260B
WEEKLY FIRST AWARD
VCR VC/M260B
MICRO STEREO SYSTEM XL-505
ORGANIZER ZQ-650 1 Mb
MICROWAVE R-220AW
OTHER WEEKLY AWARDS
30 X 4 = 120 MUFC POSTERS
30 X 4 = 120 MUFC T-SHIRTS
11 X 4 = 44 WALKMANS JC-121H
5 X 4 = 20 ORGANIZER EL-6660A
OTHER AWARDS OF WHOLE CAMPAIGN
LCD PROJECTOR XVC1E
VCRs
VIEW CAM VL-E66S
ORGANIZER EL-6620
ECR ER-A150
PC WIDE NOTEBOOK WITH PC PRINTERS AND SCANERS
REFRIGIRATORS
AIR CONDITIONERS
ANALOGUE COPIERS
VIDEO PRINTER VP-ES1S
TVs
HI-FI MD-X8H
HI-FI C470H
ECR ER-A750
HI-FI XL-505H
ECR ER-A610
ECR ER-A470
ORGANIZER PB-EE1
ORGANIZER ZQ-650
ZAURUS ZR-5800
MOBILON (BODYGUARD)
PMC
DIGITAL COPIER 5132
HI-FI XL-515H
MICROWAVES
HI-FI C401T
FAX MACHINES
CALCULATORS
POCKET COMPUTERS
ORGANIZER EL-6660A
DIGITAL VIEW CAM VL-DC3S
We used some ads more than ones.
For the both campaigns:
TOTAL: 15.000 DEM
Positive reactions of dealers, becouse they had place in our ads every day.
Yugoslav public were introduced with new SHARP assortiment and locations of SHARP stores.
Our present and potential customers were introduced with characteristics of our products.
We raised the sale of SHARP products in an important amount.
We made a better defined campaign and relation with yugoslav public than our competitions.
SHARP SHOP, Belgrade
SENZOR, Belgrade
SPECIAL ELECTRONIC, Belgrade
TEHNOOPREMA, Belgrade
TEHNIKA REGISTAR KASE, Belgrade
OLIVETTI COMMERCE, Cacak
GROSS, Cacak
TV SERVIS BUNDALO, Pancevo
ON LINE, Senta
BELL-TON, Novi Sad
ELMER, Petrovaradin
DIGITAL, Sombor
CONTINENTAL, Vrbas
TEHNIKA, Subotica
PARUS, Bor
SIGMA COMMERCE, Pristina
DIGITRON SP, Valjevo
SARS, Podgorica
TEHNIKA, Podgorica
DIPOL, Podgorica
BIROELEKTRONIKA, Nis